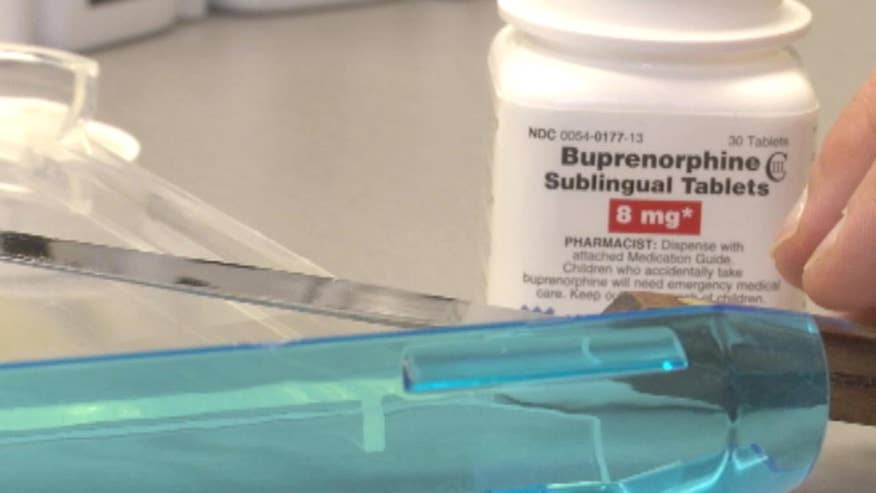 Dr. George Beecher took the oath to do no harm.
But the New Jersey physician did plenty of harm, according to Middlesex County prosecutors. And his alleged weapon was the addictive painkiller oxycodone.
Beecher, who was indicted last summer, was said to have prescribed a staggering 60,000 tablets of oxycodone to more than two dozen people he never even examined or met.
AMID OPIOID EPIDEMIC, DOCTORS EXPAND CARE FOR ADDICTED PREGNANT WOMEN
"He was ruthless, he made my son into an addict," said David Delmonaco, whose son, Robert, was one of the people who got prescriptions for oxycodone from Beecher even though he never met with the doctor. "My son started taking it, he was injured in the military, he had pain, and he quickly got addicted. This doctor just kept writing prescriptions, the highest dosage, three days in a row, and the pharmacy kept filling it."
Beecher's case is scheduled to go for a status conference on
April 7, according to Middlesex County court officials. He is being represented by attorney Robert Galantucci, who could not be reached for comment Thursday.
Beecher is one of a record 31 doctors who New Jersey authorities sanctioned in the past 12 months, saying they overprescribed painkillers and other narcotics. New Jersey has pursued criminal charges against some, and imposed sanctions including suspension and taking away their license to practice.
DRUG DEALERS WOULD FACE MANSLAUGHTER CHARGES FOR OPIOID OVERDOSES UNDER PROPOSED FLORIDA LAW
The crackdown on unscrupulous doctors is part of a concerted effort led by New Jersey Gov. Chris Christie's administration to fight the opioid epidemic on multiple fronts – law enforcement, medical and a preventive educational campaign.
Other states also are working to address the opioid prescription epidemic that claims an average of 44 lives every day.
More than 600 legislative bills addressing opioid prescriptions are pending in 49 states this year, according to The American Academy of Family Physicians. Last year, there were 1,000.
Such legislative actions may have saved Robert Delmonaco. Once a healthy U.S. Army officer and Kean University student who made it into the National Honor Society, he committed suicide in the fall of 2014 at the age of 21.
"That Dr. Beecher did it all for money," said his father, who still breaks down when speaking of his son's tragic experience.
New Jersey, like many other U.S. states, has been hit by an opioid epidemic that led to nearly 1,600 documented overdoses in 2015, an increase of 21 percent over 2014, according to state medical records.
"It represents the largest number of doctors who have been sanctioned since we've been doing this," New Jersey Attorney General Chris Porrino told Fox News about the sanctions against doctors. "It's a very serious problem. Because so many people become addicted through the [initially legal] use of prescription opioids, we feel one very important part of our efforts to prevent addiction is to ferret out doctors who are not following the rules."
In New Jersey, authorities learned of many of the wayward doctors through a prescription monitoring program that allows for the tracking of how medication is being prescribed, which doctor is prescribing it and to whom it is being written, Porrino said.
"So, we can determine whether someone is doctor-shopping, or whether in certain cases a particular physician is prescribing in a way that raises a red flag," he said.
Doctors who irresponsibly write prescriptions for such potentially dangerous addictive medications such as opioids, often for the money to be made, in essence are drug dealers in white coats, authorities say.
"Why they do it is a good question," Porrino said. "It's our view that doctors who are doing this are violating not just the law, but their oath and the trust that their patients put in them. Some of them do it for the insurance money they get based on visits, some of them get paid in cash for doing it. Very often it's driven by a desire for financial gain."
The stakes are too high, say government authorities and physicians, as well as the many people who have fallen victim to addiction, and their loved ones.
"Four out of five heroin addicts walking the streets started with prescription pain medications," Porrino said.
Last week, a grand jury indicted one of the 31 doctors, Byung Kang, 77, who is charged with selling prescriptions for high-dose oxycodone pills to people he knew were addicts and to drug dealers, the attorney general's office said.
Kang was indicted in connection with the oxycodone overdose death of 26-year-old Michael Justice.
The attorney general's statement about Kang's indictment said that he sold 90-count prescriptions for 30 milligram oxycodone pills to "numerous patients for $150 or $200 when the patients had no medical need for the potent pain pills…Kang's own records allegedly revealed that he knew many of those patients were addicted to oxycodone or were reselling the pills."
A year and a half before Michael Justice's death, his mother pleaded with Kang to stop prescribing the pills to her son, the attorney general's statement about the case said. She threatened to report him to police, but Kang continued writing the young man prescriptions "without medical justification" until his death, the statement said.
Beecher was one of the most egregious cases. He and seven other people, who were not doctors, were indicted last year on charges they operated a million-dollar prescription pill ring, authorities said.
Beecher also was indicted for a 2013 death under the state's "strict liability" law that allows drug dealers to be charged with a first-degree crime after a fatal overdose. The victim, Jason Stoveken, 30, died of an overdose from painkillers traced back to Beecher.
Jason Stoveken's father, Andrew Stoveken, who ran a hearing aid company and shared an office suite with Beecher, also is scheduled to have a status conference at the Middlesex County courthouse in April. His attorney, Steven Altman, could not be reached.
Andrew Stoveken was among seven people charged in a separate indictment last year that accused them of involvement in distributing and selling the pills Beecher prescribed.
Authorities said Beecher knowingly wrote the prescriptions for oxycodone and Xanax for Stoveken that killed him.
"We allege that even after a young man died from narcotics that Dr. Beecher falsely prescribed, Beecher and the victim's own father, defendant Andrew Stoveken, callously continued to profit by supplying tens of thousands of oxycodone pills to drug dealers," Porrino said in a statement.
Still mired in the pain over his son's death, David Delmonaco recalls how his former wife, his son's mother, pleaded with Beecher and the pharmacy that handled the prescriptions to stop because they were harming Robert.
Delmonaco said they denied they were doing anything wrong, and were dismissive.
Lawyers wanted to charge more than they could afford to take action against Beecher, he said.
Delmonaco said there's plenty about Gov. Chris Christie's administration he does not approve, but he is thankful for the tough response New Jersey officials are applying to the crisis that led to the death of Robert, who had been in and out of rehab.
"No one would do anything," Delmonaco said of the pleas that were ignored. "Nothing was done until Christie and the attorney general."
The medical industry acknowledges that opioid addiction has become an epidemic, and that health professionals must do their part to more responsibly handle painkiller prescriptions.
That involves a delicate balance, they say, between not prescribing them gratuitously, while at the same time keeping them accessible to the many Americans who experience debilitating pain and genuinely need them to function and to get through the day.
Some health professionals and patients who rely or have relied on painkillers criticized the Christie administration's recent signing of a measure that, among other things, imposes a five-day limit on initial opioid prescriptions -- a dramatic drop from the 30-day time period.
New Jersey officials have said that people with chronic pain and cancer, for instance, will not be denied the dosage and amount of opioids they need.
"The pendulum can swing too far one way or too far the other," said Dr. George E. Woody, a psychiatry professor at the University of Pennsylvania who specializes in substance abuse issues. "There clearly are situations which are criminal cases, and then there are other cases whether it's just a lack of knowledge or sloppiness" in prescribing opioids.
"These are valuable drugs" for alleviating agonizing pain, Woody said. "They've been around for hundreds of years, they're old medicines and they're very useful, they make a huge difference in the lives of many people."
The American Academy of Family Physicians states on its website that it deems it a priority to find "solutions to the crisis of pain management and opioid abuse."
At the same time, it notes, "We recognize that long-acting and extended-release opioids are powerful drugs that require oversight, but these drugs can be controlled without unduly limiting their proper use. Creating additional prescribing barriers for primary care physicians would limit patient access when there is a legitimate need for pain relief."
The crisis has presented the medical profession with a challenge to rethink longtime practices, said Dr. Alan Schwartzstein, a practicing family physician who is vice speaker of the Congress of Delegates for the American Academy of Family Physicians.
"Doctors prescribed opioids in past as they felt was appropriate," Schwartzstein told Fox News. "Around the early 2000's, there was a push to prescribe medicine for chronic pain. We were not adequately treating pain. We have to balance appropriately managing pain, and protecting the public from addiction and overdoses."
Elizabeth Llorente is Senior Reporter for FoxNews.com, and can be reached at Elizabeth.Llorente@Foxnews.com. Follow her on Twitter @Liz_Llorente.