A pair of F-16 jets struck two members of a ground-control party -- killing a civilian contractor and wounding an Air Force service member -- after a training exercise went awry on Tuesday night, officials said in a Wednesday statement.
The F-16s were using unspecified munitions when the incident occurred at a range that's part of the White Sands Missile Range complex near Holloman Air Force Base in southern New Mexico.
Members of a ground-control party are controllers who provide guidance to military aircraft, including fighters attacking ground targets.
Fox News was at the base the night of the mishap and recorded video of crews arming missiles on F-16s. It was not clear whether any of those jets were involved in the accident.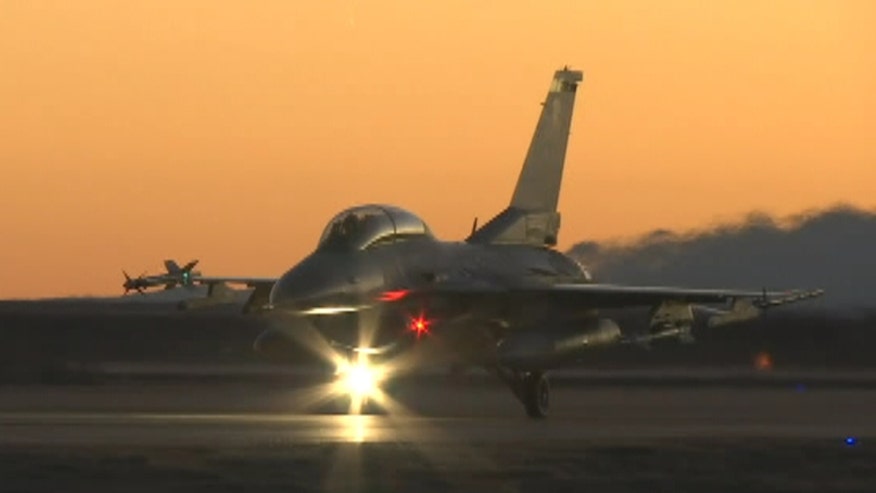 The person who was injured was released from a hospital after being treated for unspecified injuries, the statement said. Neither of the ground-control members' identities were released, nor were the pilots of the F-16s.
Officials said the incident is under investigation.
The F-16 first became operational in the late 1970s and is a multi-role fighter that can drop bombs, fire missiles and shoot cannon shells in missions that can include aerial combat and attacking ground targets. There are one- and two-seat versions.
The statement said the aircraft are based at Holloman but belong to a unit, the 54th Fighter Group, that is part of the 56th Fighter Wing headquartered at Luke Air Force Base in Glendale, Arizona.
Fox News Multimedia Reporter Ray Bogan and The Associated Press contributed to this report.