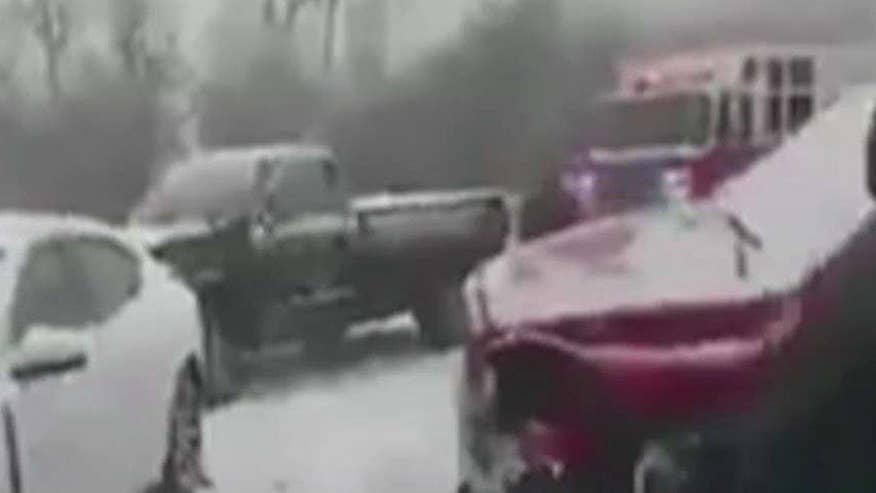 A blast of winter weather slammed a big chunk of the U.S. on Saturday, triggering hundreds of crashes in North Carolina while dumping snow from New England as far south as parts of Georgia.
Going about 35 mph down N Pleasantburg Drive in Greenville. Roads getting slick now, less maintained. @foxcarolinanews pic.twitter.com/tGkVNiiufr

— Alexa Rodriguez (@aerodrigueztv) January 7, 2017
CALIFORNIA BRACES FOR POTENTIALLY RECORD-BREAKING STORM
The storm hit North Carolina especially hard.At least 260 crashes or other traffic incidents were reported between midnight and 6 a.m. as the rough weather blew in, North Carolina Gov. Roy Cooper said. Investigators told reporters they haven't confirmed any weather-related deaths.
Cooper says that even after the snow stops later in the day, bitter cold will blow in and refreeze any melted slush on roads.
AIRLINES CANCEL HUNDREDS OF FLIGHTS AHEAD OF EAST COAST STORM WARNINGS
Raleigh-Durham International Airport staff worked through the night to clear runways. Officials there said most airlines had canceled flights through mid-morning.
The Charlotte airport announced it would open with limited operations after de-icing 70 planes on Friday and plowing of the airfield. It advised travelers to check their carrier for cancellations.
Most flights have been canceled at the airport in Norfolk, Va.

The National Weather Service says Greensboro, Burlington and Roxboro have had more than 8 inches of snow. Parts of South Carolina got more than 6 inches, Fox Carolina reported.
Duke Energy reported about 14,000 outages in the Carolinas. That included about 3,000 in the county surrounding Charlotte and more than 4,000 in neighboring Union County.
The Virginia National Guard said about 200 members were staged at firehouses around southeast Virginia with Humvees and trucks to help police and firefighters.
Cooper was supposed to have been sworn in Saturday at an outdoor ceremony attended by thousands. He instead rushed through a 20-minute indoor oath-taking Friday.
"Consider yourselves the chosen few," Cooper jokingly told family, friends and well-wishers able to attend his swearing-in.
Click for more from Fox Carolina.
Click for more from Fox 5 Atlanta.
The Associated Press contributed to this report.