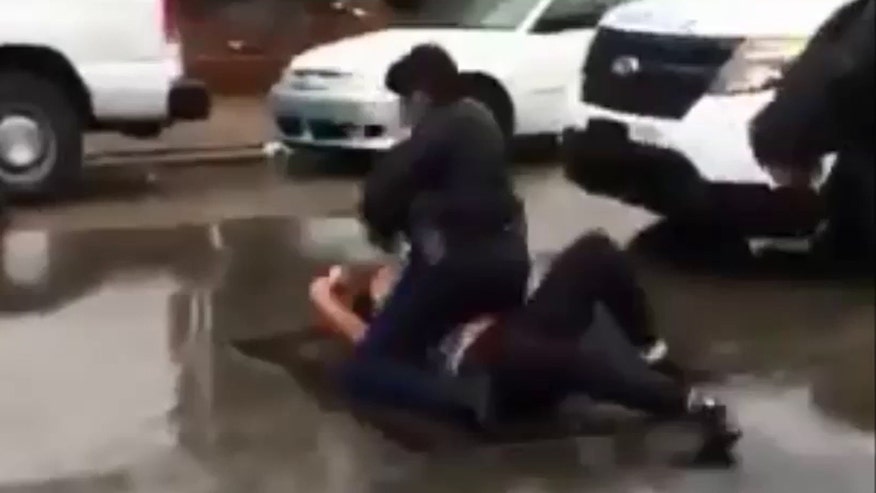 Philadelphia police are looking into two videos posted on social media that show an officer fighting a teenage girl while breaking up a brawl in the city's southwest side.
Officers were dispatched to the intersection of 54th Street and Springfield Avenue just before 4 p.m. on Monday after two families reportedly gathered at the location to fight.
Former Chicago top cop blames Black Lives Matter for surge in violence
Witnesses began recording as police arrived to the scene and attempted to get the brawling families to break it up.
The two videos shared on social media showed an unnamed officer grabbing the 16-year-old and pushing her away. The two then got into another confrontation, which ended with the officer throwing the girl to the ground and repeatedly throwing punches while on top of her.
WARNING: Video contains some adult language
The city's police department's Internal Affairs Unit has opened an investigation.
Philadelphia Police Commissioner Richard Ross told FOX29 that while he is not justifying the police officer's actions on Monday, the videos do not show the full story.
He said the teen hit the officer so hard in her face that her glasses flew off, which the teen admitted to later while in custody.
Gun-shaped cell phone case prompts police standoff
Ross said the officer and the teen gave almost identical accounts of what happened.
"I'm not trying to justify anything," Ross said. "I'm just merely saying that police work sometimes isn't as pretty as people want it to be."
He continued: "And in this case, rarely do you get incidents where the police officer and the person taken into custody tell an identical story, but in this case they did."
The Associated Press contributed to this report.