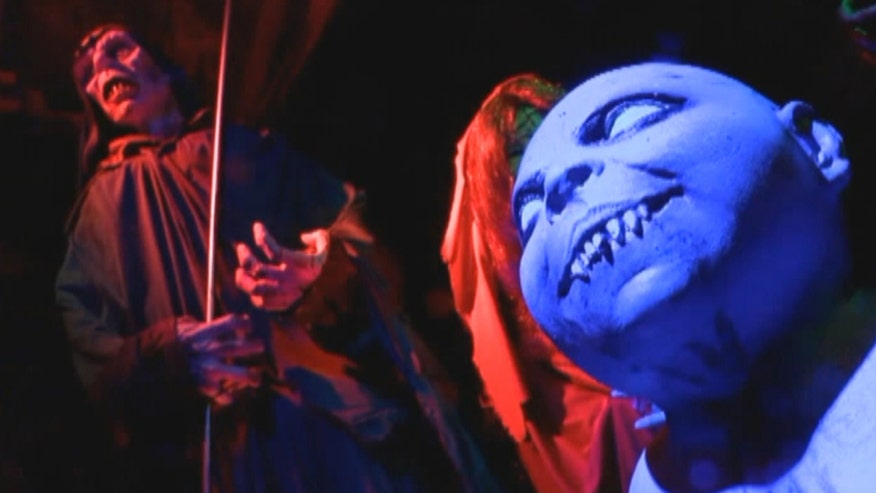 The controversial Sycamore Township, Ohio, nativity scene was vandalized early Tuesday morning, according to creator Jasen Dixon.
Dixon said the vandals hit his handmade 'zombie' nativity scene at around 4:30 a.m.
SCHOOL CENSORS "CHARLIE BROWN CHRISTMAS" POSTER
"They ripped Mary's head off and flipped over baby Jesus' bed. We found him out in the yard," Dixon said. "(They) knocked over one of the wise men and broke Joseph."
Dixon said he spent the day putting the display back together and fixing the damaged figures.
WOMAN YELLING 'MERRY CHRISTMAS' TRIES TO RUN OVER EX-BOYFRIEND DECORATING HOME, COPS SAY
It's the third consecutive year that Dixon has assembled the nativity scene that replaces religious figures with zombies. Even the baby Jesus figure has fangs and blood spilling from its mouth.
Earlier this year, 27 misdemeanor charges were dropped against Dixon and he didn't have to pay $13,500 in fines issued by Sycamore Township.
Township officials had claimed the roof of the nativity scene violated zoning laws.
Township Administrator Greg Bickford said the township determined the case wasn't worth the cost of litigation and voluntarily withdrew charges against Dixon.