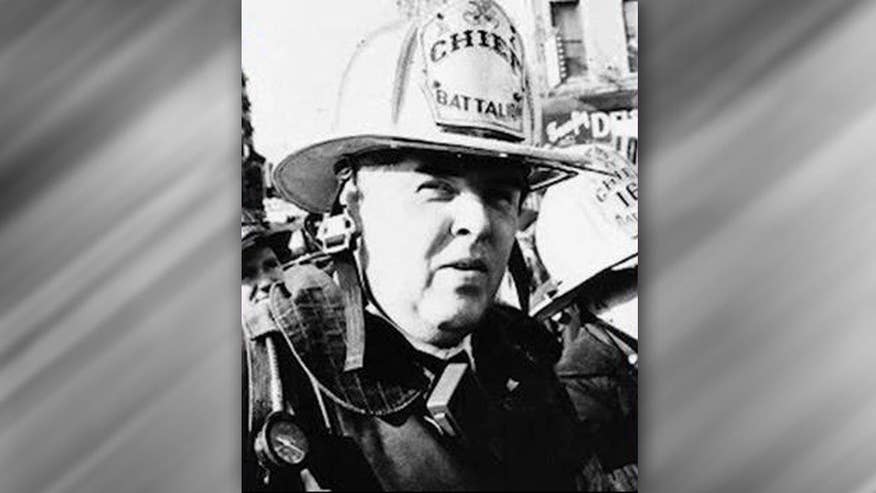 A heroic New York City firefighter was laid to rest Friday, nearly 15 years after he died responding to the World Trade Center attack on 9/11 and as the country mourns the victims of the latest terror attack on American soil.
Firefighters last saw FDNY Chief Lawrence Stack, 58, assisting an injured businessman as the north tower fell. His funeral was held on Long Island after his family recently found a vial of blood he donated before he was killed, The New York Times reported Friday.
Several thousand firefighters lined the street outside the Long Island church where his funeral Mass was held. New York City's mayor and fire commissioner were among the speakers.
Afterward, the casket bearing the blood vial was placed on top of a ceremonial fire truck, flanked by Stack's firefighter sons.
The strains of bagpipes filled the air as the procession departed for Calverton National Cemetery.
Stack's family had put off the funeral hoping that some trace of him would be identified from what was recovered at Ground Zero, the Times reported.
"Weeks turned into months," son Michael Stack, a FDNY lieutenant, told the paper. "Months turned into years, Two years turned into five, turned into 10. Now it's 15."
A Catholic funeral Mass requires the presence of a deceased's remains and the vial of blood fulfilled that requirement, the Times reported.
Stack donated to a blood bank in 2000 when he added his name to a bone marrow donor registry.
The funeral was held on what would have been his 49th wedding anniversary.
Stack's widow had suggested a small funeral, but the FDNY wanted the chief to have a funeral with full department honors, befitting a firefighter who dies in the line of duty, the Times reported.
The burial took place at Calverton in recognition of Stack's service in the Navy.
Lt. Stack noted the timing of the Orlando massacre.
"Who knew the war was going to come to us on Sept. 11?" he told the Times. No one knew the war was [coming]. And then we wake up June 12, and find out the war is still here."
The Associated Press contributed to this report.