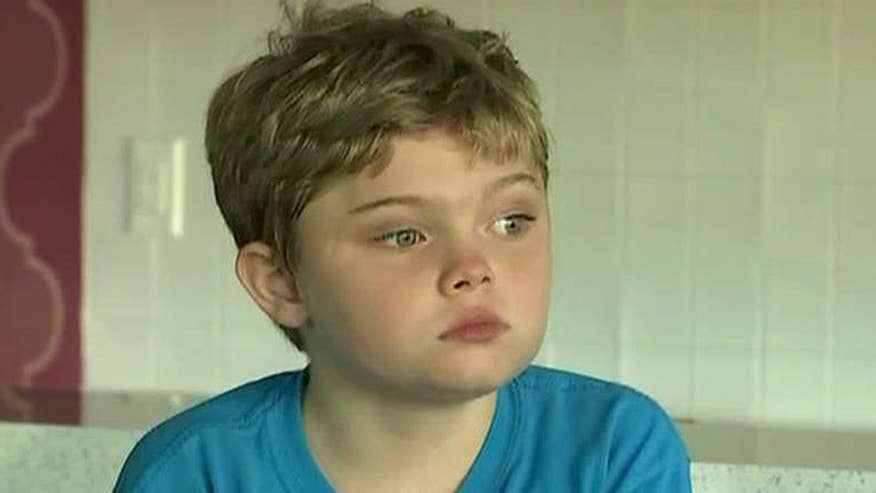 The mother of a 9-year-old boy says her son was subjected to a demeaning experience and hassled by airport security officials during a recent trip to Arizona.
Ali Bergstron of Wyoming, Minn., was flying back from a vacation in Phoenix with her son Chille on Saturday, reports FOX 9. Chille was born with Golden Hars Syndrome and, in his case, he currently suffers from four heart defects that required 15 open heart surgeries since birth. He now depends on a life-saving pacemaker which, Bergstrom says, has never been a problem at other airports and the family has been traveling for years.
"Usually, they [TSA agents] are friendly, they smile, they give him a sticker, a TSA sticker," the mother told FOX 9. She says her son loves flying so much that he hopes to become a pilot one day.
Every time they fly, the Bergstroms are required by law to request additional screening, but the mother says she always make sure to provide the proper TSA documentation that permits the screening modifications Chille requires.
But on Saturday, as the family was going through security at Sky Harbor Airport in Phoenix, Bergstrom says they were subjected to a "traumatic and discriminatory" experience.
"We were told immediately by the TSA that he was not allowed to be screened alternatively and instead would need an exemption," she said.
"[I was] shocked beyond belief. In walks the head of the Department of Homeland Security for the entire airport, followed by other supervisors, and managers with ten other people from TSA."
Alternative screening usually allows Chille to bypass walking through traditional metal detectors -- which can affect pacemakers' function -- and instead go through a different process which usually takes about 2 minutes. But on Saturday, the family says the TSA process took more than an hour as multiple officers, reportedly with guns and tasers, were called in to complete the screening.
"One of the TSA agents told me they'd prevented terrorist attacks using 9-year-old boys with pacemakers and children before, so I laughed and said, 'Oh when?' At that point, the TSA agent became very quiet and said, 'Oh we're not at liberty to discuss this,' " said Bergstrom.
After Chille asked one of the agents what was happening, one reportedly announced that the boy would not be able to fly that day.
"It was very scary," the 9-year-old told FOX 9. "I thought it was my fault."
"Because he has been reared with this pacemaker I always tried to empower him," Bergstrom said. "This was the first time I'd ever heard him talk like this."
She says her son had nightmares over the weekend but hopes he won't give up his dream of flying an airplane.
In a statement to FOX 9, TSA spokesman Nico Melendez said, "TSA is committed to ensuring all travelers are treated with respect and courtesy. TSA is reviewing Saturday's incident and working to contact the family."
But Bergstrom says no one has reached out to her directly.
"TSA has not contacted me. No one has apologized. No one has reached out," she said.
Chille is scheduled to undergo his 16th open heart surgery soon.
FoxNews.com has contacted the TSA and Bergstrom family for comment.