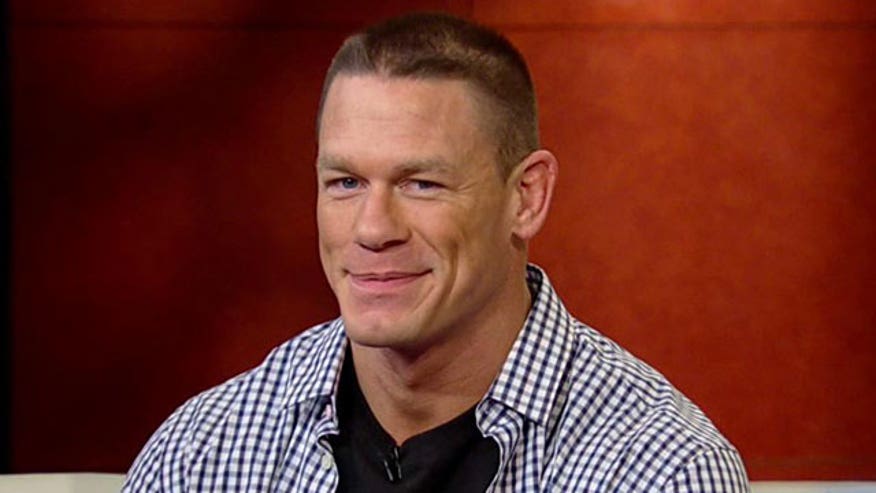 John Cena is a WWE superstar but he's fast approaching movie star status with his role in Amy Schumer's breakout summer hit "Trainwreck." The 38-year-old spoke to FOX411 about getting naked on camera and who he wants to face off in the ring next – past or present.
FOX411: You're starring in two movies. Are you the next Dwayne Johnson?
John Cena: There is only one Dwayne Johnson. What Dwayne has done is absolutely fantastic. He had a vision when he was here at WWE. He promotes like a mad man. We'll see how I do with John Cena before I can be mentioned in the company of Dwyane Johnson.
MORE: Cara Delevingne gushes about girlfriend
FOX411: You filmed a hilarious sex scene with Amy Schumer. What was that like? Your girlfriend, Nikki Bella, who stars on E!'s "Total Divas" was not too pleased about that. Now that she's seen the movie is all ok or is there still jealously?
Cena: Yeah, it was uncomfortable. I never thought I would get the part in the first place. Then I got the part and was thinking I have to be naked. It was nerve racking. Amy was fantastic. Everyone embraced the comedy. Nicole had every right to be upset because I didn't tell her about it at first. I never really approached her with "I'm trying to do this thing." Nicole had every right to be mad because I should have told her from the beginning. She's great. A relationship is based on communication. She knows I'm head over heels in love with her.
FOX411: You seem like a relatively private person. Is it odd having your personal life open for public consumption?
Cena: It is weird. When they came to us with the concept of "Total Divas" it wasn't so accepted around [the WWE]. Those girls who chose to put their lives are some of the bravest. I wanted nothing but success for her.
FOX411: You recently said you would never leave the WWE. Why are you so loyal?
Cena: There will be a time when I won't be able to perform in the ring. I'm 38-years-old. So, if I'm not in the ring I want to be involved in some way. I love it! I watch every single match because I enjoy it. It's been 12 or 13 years now, the audience is so exciting and electric. It keeps me coming back.
FOX411: If you could face-off against any wrestler dead or alive who would it be, and who would win?
Cena: Past: Stone Cold Steve Austin because he was truly inspiration to me. Our audience wouldn't mind seeing that. In the same breath there are some present stars that I haven't faced off with. Hopefully, down the line I look forward to facing those new faces.
Four4Four: Nicki and Swift not getting along
Fox News.com Reporter and FOX411 host Diana Falzone covers celebrity news and interviews some of today's top celebrities and newsmakers. You can follow her on Twitter @dianafalzone.