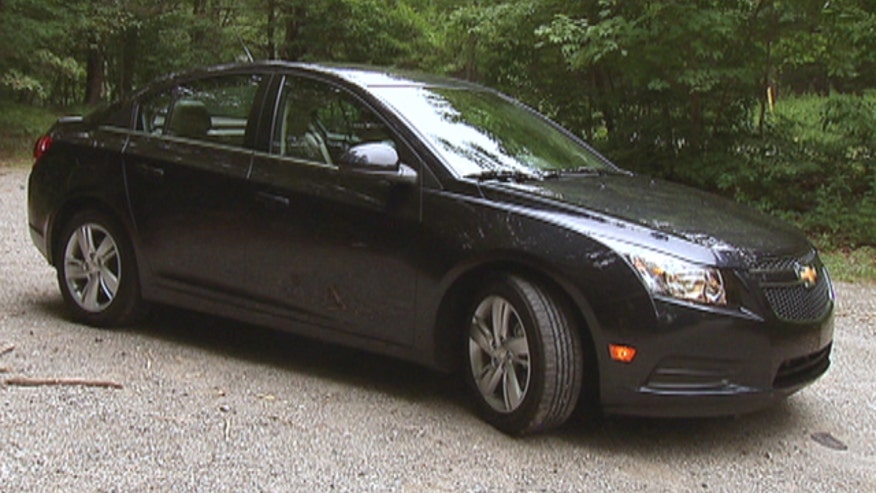 I'd like to officially grant General Motors a pardon for good behavior and time served.
Surely more than any other company, GM was responsible for the death of diesel-powered cars in the USA back in the 1980s thanks to its lineup of smoky, stinky, underpowered and, I'll reiterate, smoky engines that thankfully dissipated with the also unlamented Chevrolet Chevette in 1986.
But with the introduction of the 2014 Chevrolet Cruze Diesel, the company has literally washed the slate clean and opened the door to a new era of clean, powerful compression-ignition cars from Detroit.
It wasn't all that hard, of course. Chevrolet, along with every other automaker, has been selling gazillions of diesels in foreign markets during the intervening years, many of them quite good. Chrysler has even made a few of its motors available here to Americans in its SUVs and trucks, including 2014 Jeep Grand Cherokee and Ram 1500, but along with GM and Ford has been wary of playing in the diesel car game.
So, it's been left to the Germans to carry the flag, most notably Volkswagen, which has been selling more than a few 42 mpg Jettas and Golfs powered by this homegrown technology -- Mr. Diesel did hail from Munich, after all.
The Cruze goes up against both of those cars on size and price, but trumps them on power. Its 2.0-liter 4-cylinder turbo has been substantially modified for the U.S. and brings with it 170 hp and 264 lb-ft of torque, with the ability to crank that up to 280 lb-ft for short bursts of acceleration. That's more than you get from the Chevy Camaro's V6 and enough to give it a satisfying punch off the line, even if the brio teeters off as engine speed rises.
It does that rather quietly, though, as long as you're in the car. A hood packed so heavily with insulation that you could use it to work out while on vacation helps keep the sound levels in the cabin about where they are on a gasser, but open it up and you can practically feel the clattery noise.
Positioned at the top of the Cruze lineup, the diesel has a base price of $25,695, but comes with leather upholstery and a six-speed automatic transmission. It's essentially the same as every other Cruze, with handsome, unexciting bodywork and a pleasant, but smallish and aging interior. An updated Cruze lineup is expected to be on the way in about a year.
A stick shift is not available, and based on the fuel economy that the slushbox delivers, probably unnecessary. The Cruze Diesel has an EPA rating of 46 mpg highway, but as we've learned recently you really can't believe what you read on the label anymore. In this case, it does much better than that in the real world.
I had no problem breaking the 50 mpg mark, and that was on a couple of long, 70 mph highway runs. Unfortunately, things drop off dramatically around town to 27 mpg, which is no better than the most economical gasoline-powered Cruze, so you'll need to do a little personal profiling to decide if diesel really is the one for you. Sorry, but depending on how much more it costs than regular where you live, there will be some math involved.
While working on those calculations, keep in mind that every 10,000 miles or so you'll need to add an extra five gallons, but not of fuel. A diesel exhaust treatment fluid, stored in a tank where the absent spare tire would normally go, is required to clean up the emissions. This is common on larger diesel engines, but VW's 4-cylinders manage without it, as will the upcoming Mazda6 SKYACTIV-D. You don't have to worry about it for the first two years, as all maintenance is included, but after that figure on spending about $30 bucks a pop.
The miles should rack up pretty quickly. This car obviously makes the most sense if you put in a lot of time on the freeway, where it can take you 700 miles per tank in relative comfort and without anything resembling range anxiety. Chevy touts its "European" handling, which in this case seems to mean light steering and a floaty suspension and is not exactly what I remember from my last trip to the old continent, but does make short work of the more crumbling parts of our nation's infrastructure. Still, it would've been nice for them to bring a couple of those nice, firm shocks across the pond with the engine.
The economical, low rolling resistance tires are a scream, however, and that's literal. Push the Cruze too hard around a cloverleaf, and they make the highest-pitched noise I've ever heard from a four pack of rubber. That goes double when you turn of the traction control and put all that torque to work on a nice front-wheel burnout. Not that you'll do that, but I did.
It just didn't feel right driving a Chevy diesel that didn't generate at least a little smoke.
----------
2013 Chevrolet Cruze Diesel
Base Price: $25,695
Type: 4-door, 4-passenger front-wheel-drive sedan
Engine: 2.0L 4-cylinder turbodiesel
Power: 170 hp, 264 (280) lb-ft torque
Transmission: 6-speed automatic
MPG: 27 city/46 hwy
Gary Gastelu is FoxNews.com's Automotive Editor.