Yemeni President Saleh Demands Assurances From U.S. Before Power Transfer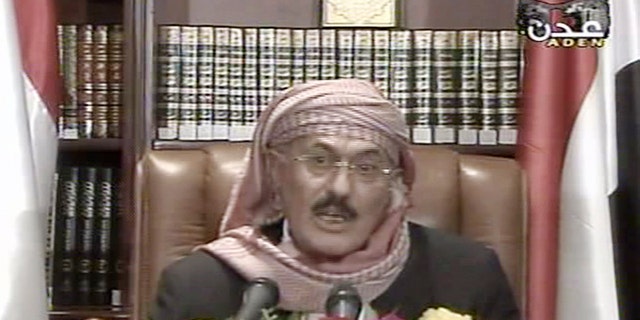 NEWYou can now listen to Fox News articles!
SANAA, Yemen – Yemen's embattled president on Wednesday put forward yet another condition for leaving office, demanding the U.S, European Union and Gulf nations offer guarantees before he signs a deal to transfer power and step down.
Ali Abdullah Saleh has managed to cling to power in the face of eight months of massive anti-regime protests, the defection to the opposition of key tribal and military allies and mounting international pressure on him to step down. He has so far balked at a U.S.-backed plan proposed by Saudi Arabia and its five smaller allies in the Gulf Cooperation Council to hand over power to his deputy and step down in exchange for immunity from prosecution.
Speaking to party leaders Wednesday, Saleh said he will sign the agreement but insisted that there must be "guarantees to implementing it."
"We want first guarantees from the Gulf, second European guarantees, and thirdly American guarantees," he said, without specifying what sort of assurances he is seeking.
The demand appeared to be both a delay tactic to put off signing the deal, as well as a diplomatic maneuver to counter pressure ahead of a U.N. Security Council vote in the coming days on a resolution calling for Saleh to step down.
In his address, Saleh accused the opposition of scuttling an agreement on the initiative by demanding he first sign the deal before a timetable for the transfer of power can be discussed. He said the opposition lacks a vision of its own, and is merely mimicking other rebellions in the region.
He also accused his opponents -- who include defected military units, diplomats and tribal chiefs -- of using the protesters as "human shields," and said the opposition is dragging the country toward a violent showdown. The opposition's real aim, he said, is to get rid of him and his family and relatives, and take "revenge."
Saleh was gravely wounded in an explosion at his presidential palace in June, after which he left to Saudi Arabia for treatment. During his absence, mediators and opposition groups sought to convince him to stay away and transfer power to his deputy -- a way to launch the regional power transfer deal. Saleh declined and returned abruptly to Yemen late last month.
A violent crackdown against the regime's opponents quickly followed, with outright street battles in the capital Sanaa between troops loyal to Saleh's son Ahmed and dissident military units and pro-opposition tribesmen. Since then, the longtime leader has come under growing pressure from the international community to step down.
U.N. diplomats said Wednesday the five veto-wielding council members reached agreement on major elements in the British-drafted resolution and circulated the text to the rest of the council Tuesday night.
The draft resolution supports the Gulf Cooperation Council's initiative calling for a cease-fire and the immediate signing of a power transfer deal and expresses "grave concern" at the situation in the impoverished Gulf nation.