World stocks sink amid fears over US fiscal cliff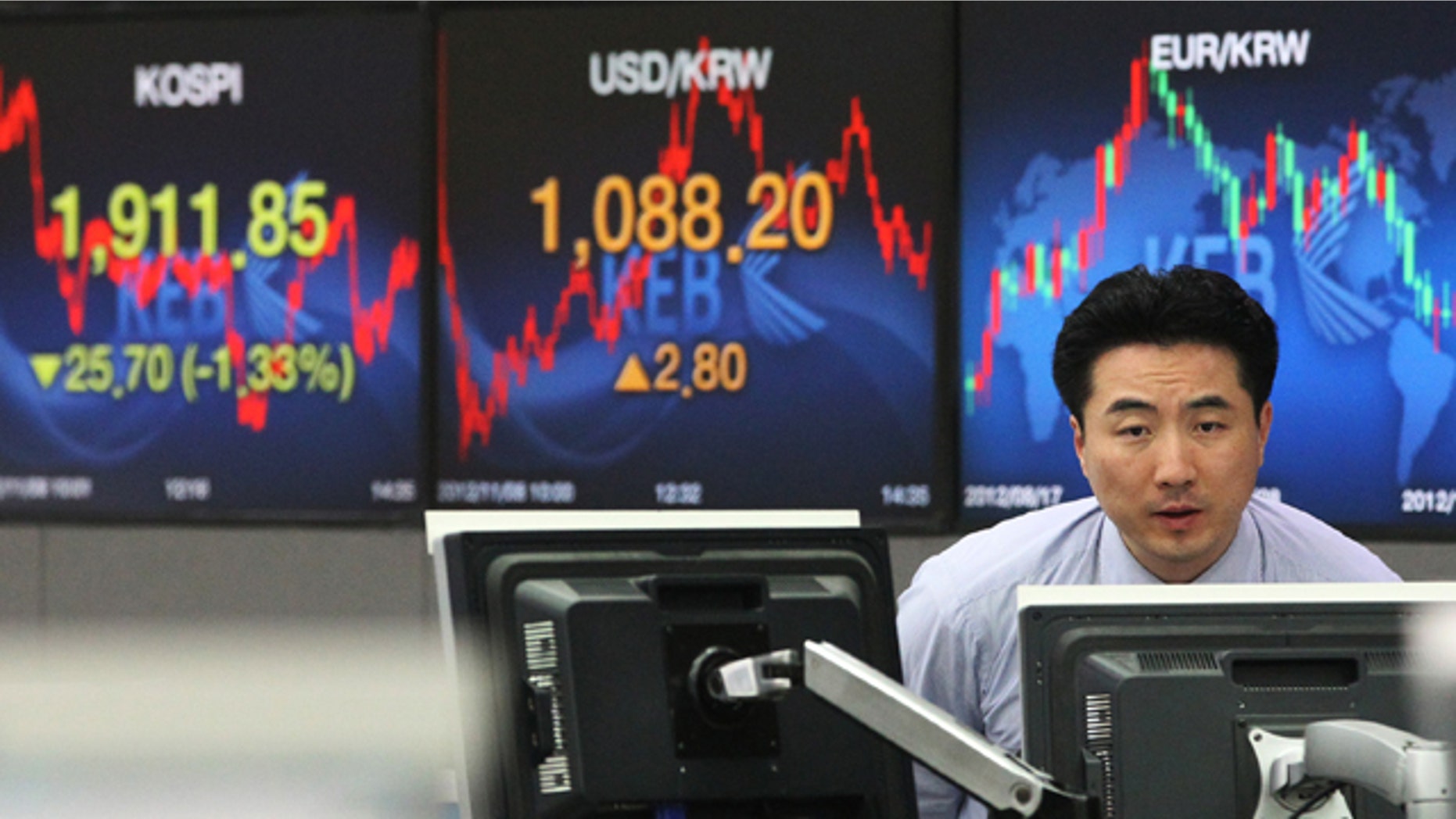 HONG KONG – World stock markets struggled Friday despite encouraging Chinese economic figures as fears persisted over the so-called U.S. "fiscal cliff" that's seen as a big threat to the economic recovery.
In early European trading, the FTSE 100 index of leading British companies was nearly flat at 5,779.20 while Germany's DAX was marginally lower at 7,200.92. The CAC-40 in France was down 0.2 percent at 3,402.13.
U.S. stocks were poised to creep higher. Dow futures were up 0.1 percent to 12,786.00 and broader S&P 500 futures were up 0.2 percent to 1,377.50.
Japan's Nikkei 225 index fell 0.9 percent to close at 8,757.60 and Hong Kong's Hang Seng shed 0.9 percent to end at 21,384.38. South Korea's Kospi retreated 0.5 percent to 1,904.41.
Australia's S&P ASX 200 dropped 0.5 percent to 4,462.00 after the central bank released a downbeat assessment of the country's economy.
Chinese stocks dipped even as a clutch of reports provided signs of a possible recovery in the world's second-largest economy.
The Shanghai Composite Index closed down 0.1 percent to 2,069.07 and the Shenzhen Composite Index edged 0.4 percent lower to 828.46. The benchmarks seesawed between gains and losses throughout the day as investors mulled the data showing factory output rose, investment growth strengthened and inflation eased in October.
Markets have slumped worldwide as investors have refocused on challenges to the world economy following President Barack Obama's re-election. Many worry that gridlock in Washington will prevent the president and Congress from reaching a deal before $800 billion of tax increases and government spending cuts kicks in on Jan. 1.
Investors also have renewed fears about Europe's lingering debt crisis. European Central Bank President Mario Draghi warned that the economy of the 17 nation grouping that uses the euro remains weak and will struggle to grow even with "visibly improved" confidence among the currency union's financial markets.
Asian stocks are "going to be very much driven by the U.S. and Europe," said Peter Esho, chief market analyst at City Index Asia Pacific in Sydney. But "I think things will change in the first quarter of 2013 with a coordinated Chinese response" to the country's painful slowdown, he said.
Australian stocks fell after the country's central bank said in a quarterly report it was trimming growth forecasts as mining companies scale back investment plans because of declining iron ore and coal prices and the strong currency.
In currencies, the euro weakened to $1.2743 from to $1.2750 late Thursday. The dollar was unchanged at 79.38 Japanese yen.
Crude oil for December delivery was down 17 cents to $84.91 in electronic trading on the New York Mercantile Exchange. The contract rose 65 cents to close at $85.09 on Thursday.