Woman claims Paris attacks mastermind came into Europe with dozens of ISIS militants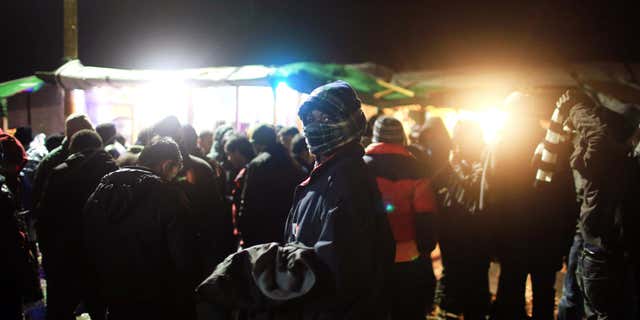 NEWYou can now listen to Fox News articles!
The presumed leader of the Islamic State operatives who attacked Paris in November boasted that he slipped into Europe among refugees from Syria as part of a team of dozens of militants, according to a key witness.
If true, the testimony adds urgency to a continentwide effort by security services to track down people with links to the extremist group. Authorities fear that Islamic State smuggled many of its fighters into Europe among the hundreds of thousands of refugees who have fled Syria and Iraq in recent years, officials say.
The investigation into the Paris attacks has raised questions about Europe's ability to screen those refugees for potential threats. At least two people involved in the Paris attacks had registered as refugees on a Greek island in the months before they surfaced in Paris.
The latest testimony, which was reported by French media Thursday, came from a woman who provided information that led French police to Abdelhamid Abaaoud, a Belgian who is believed to have orchestrated the Nov. 13 killing spree in Paris that left 130 dead and hundreds injured.
The woman, who spoke under the pseudonym Sonia, accompanied Mr. Abaaoud's cousin, Hasna Aït Boulahcen, to a hidden encampment along a highway north of Paris in the days after the attack to meet Mr. Abaaoud.
She said Mr. Abaaoud told them that he arrived in Europe without documents, among the refugees, along with 90 other operatives, including French, British, German, Iraqi and Syrian citizens, an official familiar with her testimony said. The woman testified that Mr. Abaaoud said his network had operatives in the Paris region and elsewhere in Europe, the official said.
About 50 to 60 of the operatives in Mr. Abaaoud's network entered the European Union by sea or land through Greece, Bulgaria and Romania, according to a Western counterterrorism official. The operatives traveled from Syria through Turkey to reach the EU borders, and then spread to various countries including France, Germany, Spain and the U.K., the official said.
No other details about their movements or the time frame over which they arrived were provided.
Mr. Abaaoud asked his cousin for help with the next attack he was planning: assaults on a commercial center, a police station and a nursery school in La Defense, the business district outside Paris, the friend testified.
"I said to him, 'You have killed innocent people!' " the woman, speaking on RMC radio, said she told Mr. Abaaoud. "He said to me, 'No, they aren't innocent. You have to see what's happening with us in Syria.'"
A French official confirmed the woman on the radio was the one who had testified.
After the meeting, she contacted police several times to disclose Mr. Abaaoud's location and his plans for another attack.
"Her testimony was crucial," said Clemence Bectarte, a lawyer with the International Federation for Human Rights who is helping to represent her. "It is the piece of information that helped them get to Abaaoud."
Mr. Abaaoud was killed during a raid on an apartment hideout in the Paris suburb of St. Denis, shortly after the woman tipped off the police. Ms. Aït Boulahcen and another accomplice in the Paris attacks, a Belgian Islamic State fighter named Chakib Akrouh, also were killed.