Woman admits to killing her father after finding his child pornography collection, including photos of herself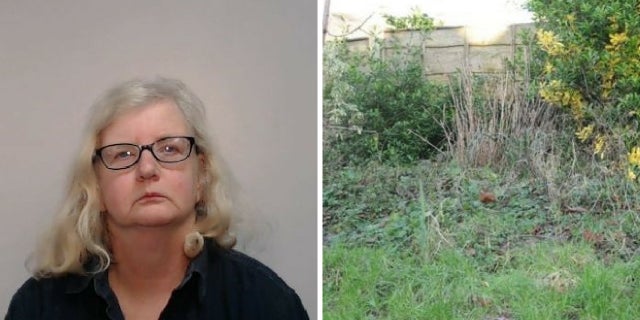 NEWYou can now listen to Fox News articles!
A British woman was sentenced to nine years in prison on Wednesday after she confessed to killing her father and burying his body in the backyard of their home in 2006 after she discovered his collection of child pornography, including indecent images of herself.
Barbara Coombes, 63, of Reddish, Stockport, went to a police station in Stockport on Jan. 7, 2018, where she admitted she killed her father, Kenneth Coombes, 87, in 2006.
She told police she "snapped" in January 2006 when she came across naked photographs of herself and another child, The Guardian reported.
She said she was afraid she was not the only victim of her father "and a black cloud appeared over me." She told investigators she had been used as a "sex slave" by her father for decades and was raped hundreds of times by him. She claimed her father took her to a photography club where he "forced her to display her genitals while other men took photographs of her."
"I could feel a black cloud appearing over me," Coombes said in court. "In a haze of disgust and disbelief, I picked up a shovel I had been gardening with and walked into the living room where my father was standing."
WOMAN DISAPPEARS AFTER SHE RECORDED HERSELF THROWING INK ON POSTER OF CHINESE PRESIDENT, REPORT SAYS
Coombes said she hit her father in the back of the head with the shovel before slitting his throat with the tool's blade, The Washington Post reported. She then took a rug, wrapped up his body and buried him behind a tree in the backyard. She bought 2,000 pounds of soil to conceal the body. She told family members her father died suddenly and the hospital cremated him. Neighbors said they thought the man moved away. Coombes lived in the home for the next 12 years.
"To my knowledge this man Kenneth just disappeared," Terry Sever, a neighbor, told the Manchester Evening News. "I was not that friendly to ask where he went. I just did not see him anymore."
Coombes' lawyer, Martin Heslop, said his client was "treated as a slave" by her father.
"She had no friends, no life outside the house where she was treated as a slave and controlled by her father and had no one to talk to," Heslop said.
Heslop said it was also possible Kenneth Coombes may have been the father to Barbara Coombes' first child. The child died after birth, The Guardian reported.
Coombes pleaded not guilty to murdering her father but "guilty to the lesser charge of manslaughter by reason of diminished responsibility" on Wednesday.
Judge Timothy King sentenced her to nine years in prison saying he "did not accept she acted in self-defense" but "accepted she killed while suffering from post-traumatic stress disorder and severe depression as a result of 40 years of extreme mental, physical and sexual abuse at the hands of your father."
CRITICS SLAM 'EMBARASSING' MAYOR SADIQ KHAN FOR FEUDING WITH TRUMP WHILE LONDON FACES RISING CRIME, KNIFE DEATHS
The judge also believed Coombes would have never confessed unless "the net [had] not started to close in around her." A housing officer kept getting sent away while trying to make welfare checks at Coombes' home. A representative from the Stockport housing association became suspicious of the man's whereabouts and was slated to visit the home the day after Coombes confessed. She also was accused of "claiming her father's pension and benefits on his behalf," the BBC reported. She received about $236,000.
Senior Investigating Officer Duncan Thorpe of the Greater Manchester Police Department said he believed Coombes "showed absolutely no concern for what she had done and denied everyone the chance to say goodbye, as Kenneth lay buried at the bottom of his own garden, just meters from her own bedroom window."
"Despite having years to tell someone what really happened, she only came forward when she had no other choice," he said.