Woman accused of ordering gang rape of stepdaughter, 9, in India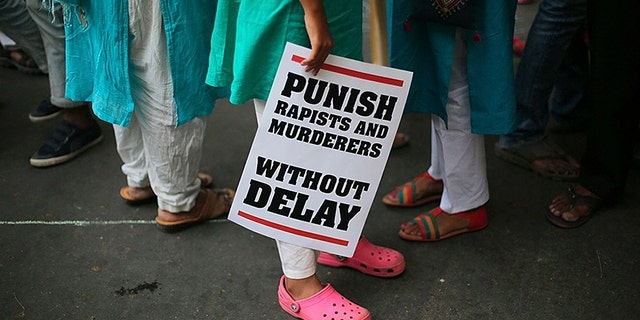 NEWYou can now listen to Fox News articles!
The stepmother of a 9-year-old girl in India was accused of ordering her son and three others to rape and kill the child, while in her presence, officials said.
The stepmother, who was not named, was allegedly upset that the girl was favored by her father, the BBC reported. The girl's body was found in a jungle on Sunday in the Baramulla district.
Officials said the girl's body was burned with acid and she may have been tortured. She was missing for 10 days before her body was found, police told the BBC.
INDIA'S MONSOON FLOODS LEAVE 800,000 DISPLACED, THOUSANDS STRANDED
Senior police officer Imtiyaz Hussain said the girl was killed with an axe after being raped. The girl's stepmother was accused of strangling the victim as she was hit with an ax, NDTV News reported.
Six people have been arrested in connection with the girl's murder and gang rape in Indian-controlled Kashmir.
INDIAN POLICE ARREST 4 IN RAPE OF MOTHER, TEENAGE DAUGHTER
The girl's death comes after an 8-year-old girl was kidnapped and raped in April. Her mutilated body was found in the woods a week later.
After the fatal gang rape of a medical intern on a bus in 2012 in Delhi, hundreds of thousands of Indians took to the streets to demand stricter rape laws in the country.
The Associated Press contributed to this report.