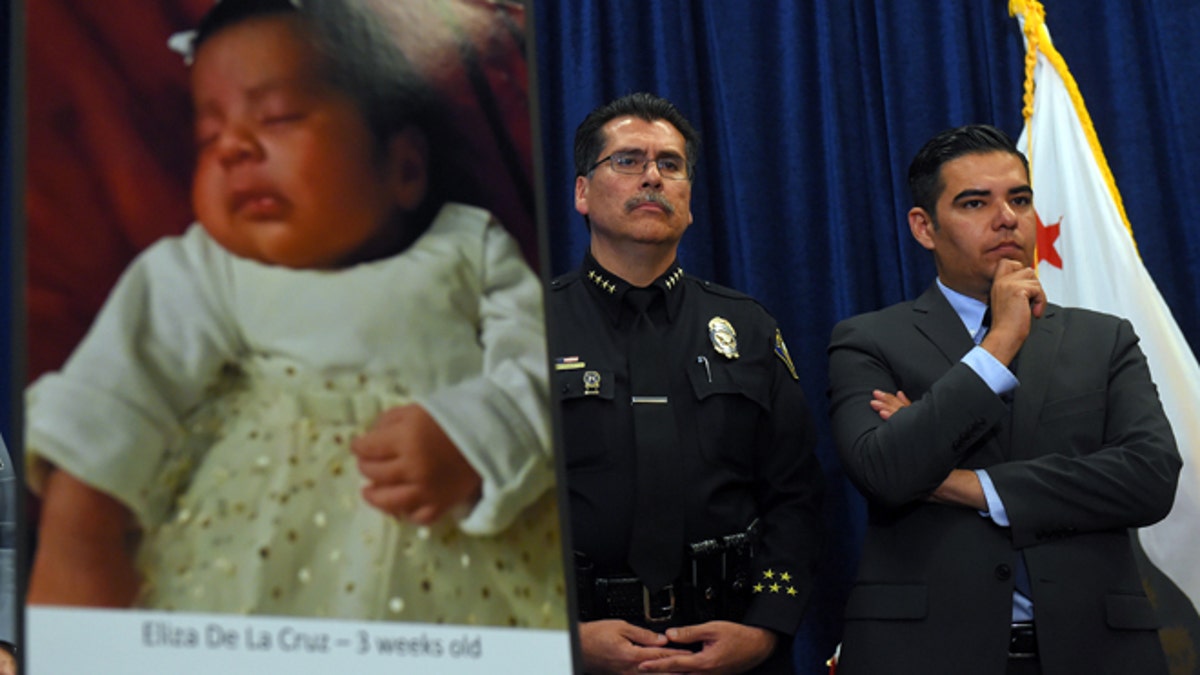 LONG BEACH, Calif. (AP) – A woman who police say is at the center of a scheme to kidnap babies to claim as her own calls herself a mogul, a motivational speaker, a poet, a songwriter and one of the "kindest women you will ever meet," on her many websites.
But police paint Giseleangelique René D'Milian as a twisted schemer who was out to convince her married boyfriend that she had borne his twins last December while she was out of the country. There is no indication he knew of the plans.
"She fabricated a story and wanted him to believe these children were his. Why? We don't know," Long Beach police Lt. Lloyd Cox said, adding that the 47-year-old D'Milian was searching for children with a dark complexion that matched her own.
A photo on D'Milian's Twitter account carries the caption: "Twins with the man I absolutely love!!!" It was adorned with happy faces blowing heart-shaped kisses.
D'Milian is shown in glamorous form on a number of websites that she apparently operates. She had 271 podcasts on iTunes under the title "Speak Into Existence With René Reyes," where she refers to herself as an award-winning ghost songwriter and poet laureate.
She and three others were arrested Wednesday in what police called an "evil" scheme to abduct infants and kill their mothers. The plot led to the abduction and killing of a 3-week-old girl in January after her parents and uncle were shot and wounded in a home invasion and a second woman was attacked in February with a baseball bat in an unsuccessful attempt to steal her 4-month-old son, police said.
There was no hint of violent tendencies on D'Milian's multiple websites and international fan accounts, where she went by René Reyes. She advertised herself as the founder of an independent recording label and a professional speaker who has helped multinational corporations improve their operations.
One website called her "one of the most sincere and kindest women you will ever meet. Her biggest downfall would be trying to help others, even those who later may show not to deserve it."
According to police, D'Milian told people she had created a nonprofit charity focusing on 1- to 2-month-old babies in an attempt to find children to kidnap, though there's no evidence one ever existed.
The only baby police believe was abducted was 3-week-old Eliza Delacruz. D'Milian and one of her accomplices, 29-year-old Anthony McCall, followed Eliza and her mother on Jan. 3 as they rode a public bus in Long Beach, police said.
D'Milian briefly spoke with the mother as she exited the bus and two hours later McCall burst into their home, shot the baby's parents and uncle, and kidnapped Eliza, police said. The baby was found dead in a trash bin the following day in Imperial Beach, a Mexican border city 100 miles away.
On Feb. 6, police said, McCall attacked a 23-year-old mother with a baseball bat in an El Segundo hotel room with the goal of stealing her 4-month-old son. McCall was scared away when hotel guests alerted workers, who intervened. He escaped and the baby was unharmed.
Investigators wouldn't say how Eliza died and declined to discuss what may have motivated the woman's accomplices beyond saying that the man they believe carried out the attacks was a friend.
Cox said detectives spoke to D'Milian for the first time on Wednesday and police were aware of her online persona.
"She seems very intelligent," Cox said. "The detective says she's charismatic, she speaks well."
On the web, D'Milian portrayed herself as a "masterful genius behind so many ventures," with a music and speaking career and a published book called "Speak Into Existence: Affirmations For Success."
In 2013, she helped sponsor the "Leadership Success Summit" and spoke for 30 minutes, receiving praise from the crowd, said Lisa Marie Platske, who plans the annual event.
Though D'Milian claimed to receive the "Most Excellent Speaker Award" in 2013, Platske said that award doesn't exist. She said all sponsors receive a general award.
Leticia Wright met D'Milian through a business networking event about eight years ago and said she was a fun person who was often traveling and was always put together.
D'Milian sometimes referred to having twins, but Wright had never met them and always presumed they were older. The two fell out of touch in the last year and Wright was stunned by the accusations.
"I cannot imagine her doing this. That does not sound like her to me," Wright said. But, she added, "when you see people in their suit and tie, looking good and speaking from the stage, I guess that's kind of all you see."
D'Milian, of Thousand Oaks, is being held on suspicion of murder, kidnapping, attempted murder and conspiracy. McCall, of Oceanside, was arrested on the same charges.
D'Milian's daughter, Charisse Shelton, 30, and Todd Boudreaux, 44, were arrested on suspicion of helping cover up the crimes, authorities said.
It wasn't clear if they have attorneys or would request public defenders at a hearing set for Friday.
Like us on Facebook