Will and Kate Enjoy David Beckham's Company at L.A. Reception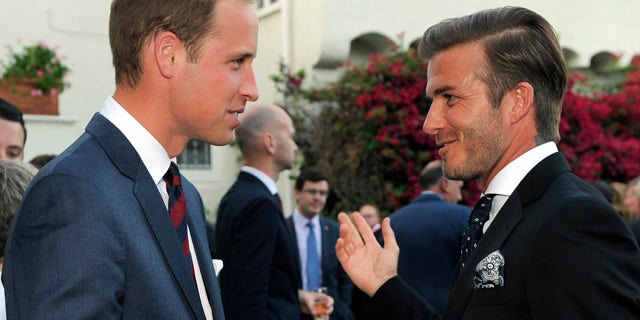 NEWYou can now listen to Fox News articles!
Los Angeles – The Duke and Duchess of Cambridge enjoyed some Los Angeles hospitality on Friday, including a meeting with England soccer star David Beckham.
After arriving earlier in the day, the newlyweds attended the British consul-general's house in Hancock Park for an open-air evening reception around a pool.
Prince William and Catherine, who was wearing a green silk dress, were chatty and personable as they mingled with the 200 people who attended the function, the Los Angeles Times reported.
The guests included the city's civic and business elite, prominent entertainment industry officials and one globally famous sportsman, who just happens to be English -- David Beckham.
Beckham, who knows William from their failed efforts to win England the 2018 World Cup and plays for the Los Angeles Galaxy soccer team, attended the royal wedding in London earlier this year.
The menu at Friday's event included cheese, leek and onion mini quiche; chicken and mushroom bouchees; chipolata sausages; "devils on horseback" (bacon-wrapped prunes); endive with smoke salmon tartare; figs with goat cheese and prosciutto; parmesan scallion crostini with pear; Stilton tartlets with apricot chutney; Welsh rarebit; and Yorkshire puddings with roast beef and horseradish sauce.
William and Catherine are on the last stop on their 12-day North American tour and have a densely-packed weekend of receptions, polo and Hollywood glamor planned.
The couple -- Catherine in a short-sleeved light-colored dress, Prince William in dark blue suit and tie -- were earlier greeted by California Governor Jerry Brown and other officials after flying in from Calgary, AFP reported.
Under bright West Coast sunshine, Catherine clutched a colorful bouquet in red, white and blue as she and William chatted to dignitaries, including Mayor Antonio Villaraigosa and the British ambassador to the US, Sir Nigel Sheinwald.
From the airport they were whisked in a motorcade to Beverly Hills for a hi-tech investment forum before heading to the Hancock Park event.
It is Catherine's first visit to America and in a bid to protect the couple's privacy, police have enacted strict anti-trespassing measures to ensure that the city's notoriously keen paparazzi are kept at a distance, Sky News reported.
Speaking shortly ahead of their arrival, Sheinwald said the couple had experienced "a fantastically successful trip to Canada and they will have a great welcome in California."
"They will meet a huge range of people from the governor to people working in the projects of 'Skid Row.' They will get a good snapshot of life in this part of California," he said.
The purpose of the trip is threefold -- to promote British business, strengthen cultural ties and push forward causes close to William's heart.
On Saturday, William will play in a charity polo match at the Santa Barbara Polo Club and that evening the couple will attend the British Academy of Film and Television Arts "Brits to Watch" event.
Sunday will start with a trip to "Skid Row" in the city's downtown to visit an arts school for children from poor neighborhoods. There also was a scheduled stop at a job fair for military veterans at Sony Studios before the couple leaves to fly back to London.