White House: Egypt Protests Can Be Opportunity for Reform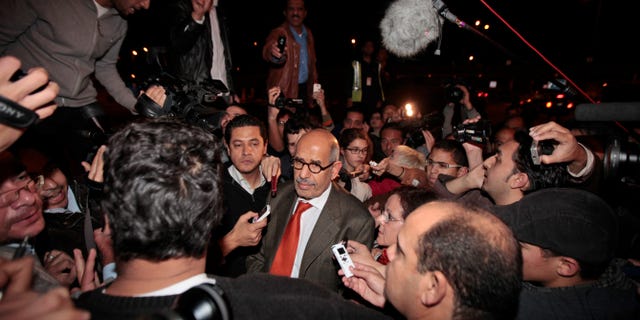 WASHINGTON -- Treading carefully, President Barack Obama called Egypt an ally Thursday and said President Hosni Mubarak has been helpful on a range of issues, but said he's told Mubarak it's critical to enact reforms.
Obama said anti-government protests filling the streets show the frustrations of the populace.
"It is very important that people have mechanisms in order to express legitimate grievances,"
Obama said in an interview being broadcast live on YouTube, after being shown video of the protests and getting a question about repression of expression in the country.
"Egypt's been an ally of ours on a lot of critical issues," Obama said. "President Mubarak has been very helpful on a range of tough issues in the Middle East. But I've always said to him that making sure that they're moving forward on reform, political reform and economic reform, is absolutely critical to the long-term well-being of Egypt. And you can see these pent-up frustrations that are being displayed on the streets."
Tens of thousands of demonstrators have filled the streets of Cairo and other parts of Egypt in the largest anti-government protests in years. Demonstrators are calling for Mubarak's ouster after 30 years in power and demanding solutions to rampant poverty and unemployment. Nobel Peace laureate Mohamed ElBaradei, a leading Mubarak opponent, returned to his homeland Thursday and said he was prepared to lead a transition to a new government.
White House press secretary Robert Gibbs was asked repeatedly during his briefing ahead of Obama's comments Thursday to address a perception that the White House was siding with the protesters and not Mubarak as the crisis rages. "This is not about taking sides," Gibbs said several times. He sidestepped a question about whether ElBaradei would be a viable alternative to Mubarak.
Gibbs said he believes Egypt's government is stable but that the protests give Mubarak and his government an opportunity "to demonstrate its willingness to listen to its own people and devise a way to broaden the discussion and take some necessary actions on political reform."
Obama called on both the government and demonstrators to refrain from violence, but also said the rights of freedom of expression and speech were as important in Egypt as they are here in the U.S.
In a Thursday phone call to Egyptian Foreign Minister Ahmed Aboul Gheit, Secretary of State Hillary Rodham Clinton "encouraged restraint and dialogue, and offered U.S. support for reforms," according to State Department spokesman P.J. Crowley.
The United States has urged peaceful, political evolution in Egypt for years, but has tolerated routine police, judicial and human rights abuses there. The U.S. has also provided the country with tens of billions of dollars in aid since it made peace with Israel in 1978. Last year, Egypt got more than $1.5 billion in economic support and military assistance from the U.S.
Gibbs said the White House will continue to "push and prod" Mubarak to peacefully allow political freedoms, and that Obama does so each time he meets with the Egyptian president.
Protestors in Egypt have been inspired by the ouster of another long-time Middle Eastern leader, Tunisian President Zine El Abidine Ben Ali, in a popular uprising nearly two weeks ago.
Protestors were also demonstrating Thursday in Yemen, demanding that country's president step down.
Gibbs cautioned against linking the protests to one movement, saying that each country is at a different stage in its political development.