What Happened to Cuba's Mystery Protester?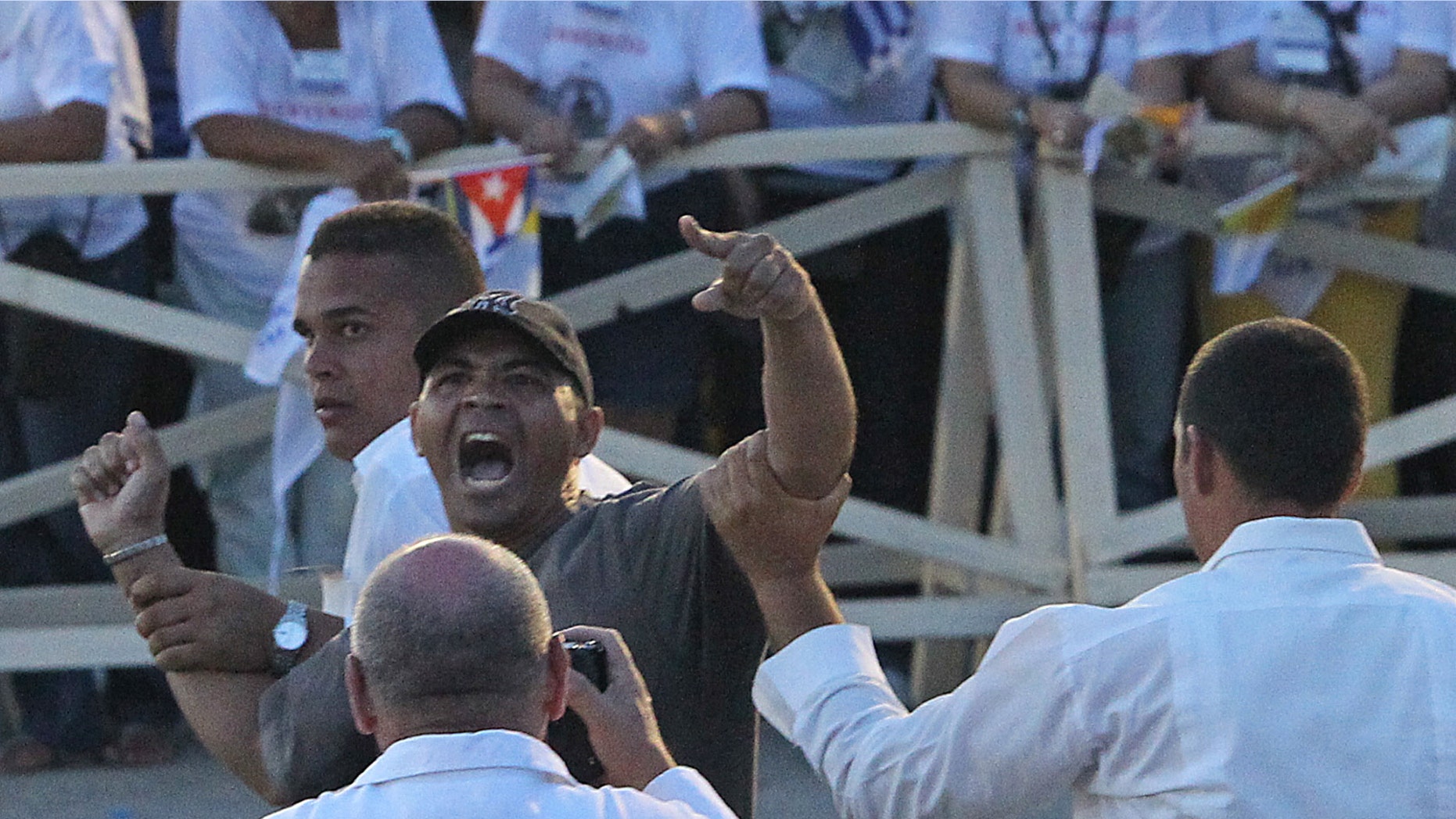 SANTIAGO, Cuba – What happened to the man in the dark T-shirt and baseball cap?
That is what Cuban dissidents are wondering after an unknown man who shouted anti-government slogans before Pope Benedict XVI's Mass in the eastern city of Santiago was dragged away by security.
An independent Cuban group that monitors the detention of dissidents "has not been able to identify by name the young man who pronounced slogans in favor of freedom and against communism," said Elizardo Sánchez, who heads the organization and is a de facto spokesman for the dissidents. In his statement Tuesday, Sánchez called on the government to identify him.
The Cuban government did not respond to requests for comment.
Just before Monday's Mass was to begin in Santiago's main square, the man wearing a dark T-shirt and cap yelled "Down with the Revolution! Down with the dictatorship!" near journalists covering the ceremony.
Security agents quickly hustled him away. Video of the incident showed him being hit by an apparent first aid worker wearing a white T-shirt with a large red cross, before they were separated.
Oscar Espinosa Chepe, who was imprisoned from March 2003 to November 2004 in a crackdown on dissent, said the consequences for disrupting a public act are serious.
"Everyone in Cuba knows what happens. ... Going to jail in Cuba is hell," he said. "I lived it."
However, human rights watchers say the government has shifted away from long prison sentences for opposition activists in favor of brief detentions, and Espinosa Chepe said it may want to avoid embarrassment in such a high-profile case. Nearly 800 journalists from around the world are here to cover Benedict's visit, and a papal spokesman even weighed in on the incident.
Like other dissidents, Espinosa Chepe did not know who the man is.
"I can't be sure that he is a dissident. He may be a regular citizen who is suffocated like many" others, he said.
At a news conference following the Mass, Vatican spokesman Federico Lombardi said he was aware of the incident, which he said lasted a couple of minutes. Lombardi said he had no official information about what happened.
"There was a young man who approached the altar and yelled some words against communism and for freedom ... an opposition protest, I believe," Lombardi said.
Blogger Yoani Sánchez, who is not related to Elizardo, tweeted about the protest on Tuesday, saying the man was beaten for criticizing the island leaders, while the pope was warmly received despite saying ahead of his arrival that Marxism was outmoded.
In mid-March, 13 little-known dissidents occupied a church in central Havana to demand the pope mediate their complaints with the government.
After two days, state security agents removed the protesters at the request of Havana Cardinal Jaime Ortega.
A church statement criticized having its house of worship being dragged into the political "trenches." Bertha Soler, the leader of the island's most famous opposition group, the Ladies in White, said her followers planned to attend Benedict's Mass in Havana on Wednesday, but would not use the occasion for political aims.
"You have to be respectful. One goes to temples to pray ... there will be no politics," she added.
Lombardi said Monday that those who came to worship at the Mass had the right to "pray tranquilly with the pope," and do so "without complication."
Based on reporting by The Associated Press. 
Follow us on twitter.com/foxnewslatino
Like us at facebook.com/foxnewslatino