Wedding shells: Gunfire at ceremony caught on video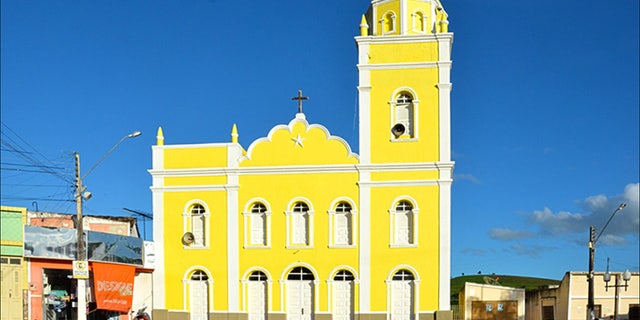 NEWYou can now listen to Fox News articles!
Friends and relatives at a small-town wedding in Brazil went home with indelible memories after the ceremony was interrupted by a shooting just feet from the altar.
The attacker, believed to be a hitman seeking revenge, was still on the loose, according to investigators.
BRAZIL'S ONCE RICHEST MAN CAPTURED IN NY, EXTRADITED IN MASSIVE CORRUPTION PROBE
He was seen in the wedding videographer's footage walking calmly behind the bride and groom as they entered the church.
Nobody seemed alarmed at the man's presence, probably taking him for a family member.
BODIES OF THREE DECAPITATED POLICE OFFICERS FOUND IN MEXICO
As the couple approached the front, the man stopped by the second or third row of pews, pulled out a handgun from under his belt and started shooting. He uttered a couple of words to his first victim before pulling the trigger.
In a matter of seconds, two men and one woman were shot.
Police identified the shooter as Umberto Ferreira dos Santos -- nicknamed Betinho -- and his top target as 62-year-old Cicero Barbosa da Silva, a suspect in his son's death. The other two people shot were Barbosa's son and his daughter in law.
The two men underwent surgery and were in stable condition, while the woman suffered minor injuries.
The shooter, who walked away as calmly as he had walked in, was still at large.
The disturbing incident unfolded in Limoeiro de Anadia, in the easternmost state of Alagoas.