Watson celebrates opening recall with warm-up ton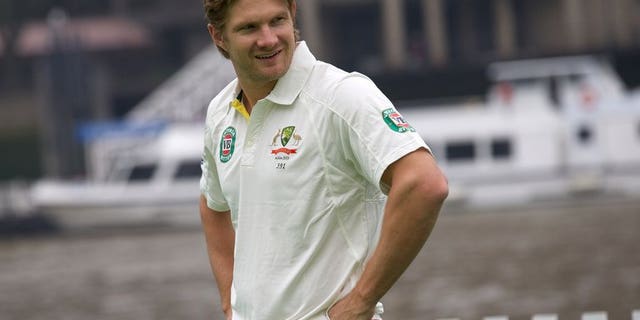 LONDON (AFP) – Australia's Shane Watson marked new coach Darren Lehmann's decision to restore him to the top of the order by scoring a century in the tourists' final Ashes warm-up match against Worcestershire on Tuesday.
Under recently sacked coach Mickey Arthur, all-rounder Watson was deployed mainly as a middle-order batsman, with Ed Cowan and David Warner opening.
But one of the first decisions taken by former Test batsman Lehmann, appointed just 16 days before next week's first Test against England in Nottingham, on succeeding Arthur was to restore the 32-year-old Watson to his favoured batting position.
Monday saw Lehmann announce that Watson and Chris Rogers, looking to revive his Test career after a lone appearance five years ago, would open in the first Test at Trent Bridge.
Tuesday saw the duo back up his decision with a first-wicket stand of 170 that helped Australia reach 340 for four at the close of the first day of four.
Watson made 109 in just 111 balls, including 14 fours and two sixes, while Rogers, vastly experienced in English county cricket, made 35.
It was Watson's first hundred since October 2010 and he was in no doubt that batting at the top of the order was where he wanted to be.
"I feel my game is more suited to opening the batting, it's something I feel well-equipped to handle now," said Watson.
"It certainly brings out the best in my personality, it's what I enjoy.
"I always know the ball will do something, whether it's swing or seam. It gets my blood going and gets my mind switched on immediately.
"That combination really does bring the best out in me as a batsman.
"Hopefully I can do it for a longer period of time," added Watson, whose 41 Tests have yielded just two hundreds.
Watson first played a Test opener during the 2009 Ashes in England, where he made several steady starts without playing a truly major innings.
Prior to that series, the medium-pacer was seen as more of a middle-order all-rounder.
"I would never have known I was built as an opening batsman, apart from in T20 or one-day cricket," Watson said. "The longer version is obviously very different but it's a place I really like batting now.
"Since I opened here in 2009 it's certainly the place I've enjoyed batting the most."
Watson added he'd enjoyed tapping into the experience of the 35-year-old Rogers, who started this season as captain of English county Middlesex.
"It's been great to be able to bat with Chris, he's certainly a very experienced and knowledgeable cricketer," Watson said.
"He kept me going and was able to sum up conditions. He gave me a few really good pointers out there, especially early on with him understanding English conditions even better than I do.
"It was nice to be able to get a good partnership going the first time we've had a chance to bat together."