Violence stalks local elections in Mexico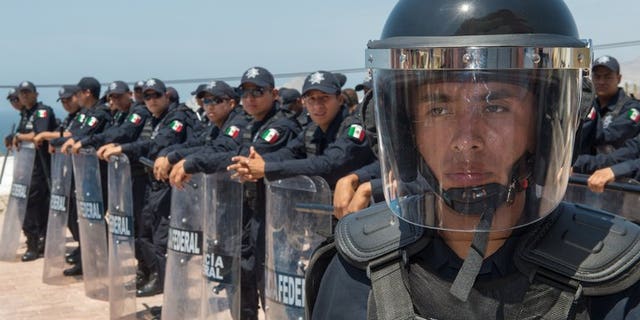 MEXICO CITY (AFP) – Candidates have been killed and others threatened in campaigning ahead of local elections Sunday in Mexico -- the first voting since a new president took over with a pledge to reduce violence.
Analysts say the bloody run-up to the elections in 14 states is typical of past elections, and they note the assaults are taking place in areas where drug cartels want to maintain their influence.
President Enrique Pena Nieto took office in December promising to modify the security strategy of his predecessor, conservative leader Felipe Calderon, whose six-year term was marred by 70,000 drug-related deaths.
The government says killings related to organized crime are progressively falling, though analysts have voiced doubts.
Pena Nieto's election also marked the return of the old ruling Institutional Revolutionary Party (PRI), which held the presidency non-stop for 71 years until 2000.
The new leader vowed to break with the PRI's shady past, marked by rigged elections and repression. But the opposition has accused the ruling party of using old tricks in this campaign, like luring voters with promises of social programs.
Candidates are running for seats in state legislatures as well as mayorships and city councils in 931 of Mexico's 2,440 municipalities. One governor's seat, in Baja California, which has been held by Calderon's National Action Party (PAN), is up for grabs.
Local elections are very important for drug gangs, which try to buy off or intimidate local politicians to secure their loyalty, said Raul Benitez Manaut, security expert at the National Autonomous University of Mexico (UNAM).
Cartels impose their will in order to "be able to do business, to facilitate trafficking" and have free rein to charge protection money to local businesses, he said.
It is also a chance for criminals to tighten their grip on police forces that are already considered in their pockets.
"The renewal of almost half of the municipal authorities in the country must be considered as a national security issue. They could change half of the police chiefs," Arturo Garcia Portillo, the PAN's elections secretary, told AFP.
Cesar Camacho, national head of the PRI, conceded there have been very serious assaults, but he also accused opponents of staging attacks to generate "disorder," raising doubts over a PAN candidate's claim he was kidnapped in Veracruz.
A half-dozen politicians or their relatives have been gunned down in recent days, while several others have reported threats. They represent a range of political parties, and it is unknown whether the attacks were related to gangs or dirty politics.
Mario Vazquez Robles, the PAN's head in the northern state of Chihuahua, remembers being warned: "Don't get involved here because your life is at risk."
In the neighboring state of Durango, Ricardo Reyes Zamudio, a mayoral candidate of the leftist Citizen Movement Party in the town of San Dimas, was found shot to death in a field on Monday after gunmen grabbed him at a funeral.
San Dimas is in a mountainous region of the northern state of Durango where drug cartels run marijuana and opium poppy fields.
Last Saturday, a PRI member running for the state legislature in the southern state of Oaxaca was wounded when gunmen attacked her car, killing her husband and assistant.
Two days earlier, the leader of the leftist Democratic Revolution Party (PRD) in Oaxaca was found dead with three gunshot wounds to the head.
The murder of a candidate in the northwestern state of Sinaloa, home to a powerful drug cartel, prompted two colleagues to drop out of mayoral and legislative elections.
The PAN withdrew from elections in two Chihuahua state municipalities, while the PRD stopped campaigns in the northeastern state of Tamaulipas and in seven Durango towns.
"Candidates are risking their skin in many parts of the country," said security analyst Alejandro Hope, a former intelligence official, adding that, in some towns, "good candidates don't run, and the people are literally left under control of drug traffickers."