Venezuelan opposition leader arrested upon return to country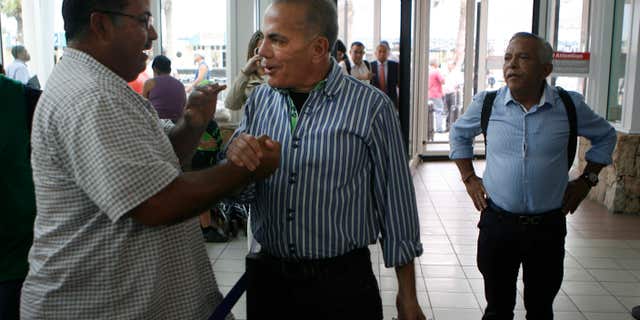 CARACAS, Venezuela – A Venezuelan opposition leader who had been living in self-imposed exile was arrested Thursday after returning to the socialist South American country.
Former Gov. Manuel Rosales flew into Venezuela after six years as a fugitive from corruption charges. Intelligence police met him at the airport and took him into custody. He was expected to appear in a Caracas court later in the day.
Before his arrest, Rosales vowed to continue fighting the country's 16-year-old socialist administration and urged Venezuelans to vote in Dec. 6 legislative elections. Authorities warned him days earlier that he would be detained if he came back.
Rosales, 63, was governor of the western state of Zulia, where he returned Thursday. He ran for president in 2006 and lost to Hugo Chavez.
He fled the country in 2009, going to Peru and then Panama after prosecutors accused him of stealing public money. He has said the charges are false and politically motivated.
Polls say the opposition is on track to win the Dec. 6 elections, potentially dealing the first decisive ballot box defeat to the socialist party in 16 years.
"Like many in the opposition, Rosales is looking at the polls and the dire state of the country, and thinks 2016 will see the government fall," said Dimitris Pantoulas, a Caracas-based political analyst. "He's coming back now because he wants to be here for that."
Supporters and other opposition leaders rallied near the airport Thursday. Venezuela's main opposition groups immediately began denouncing Rosales' arrest as arbitrary and called it further evidence of a broken justice system.
Last month, Venezuelan opposition leader Leopoldo Lopez was sentenced to more than 10 years in prison for his role in leading anti-government protests in 2014. Human rights groups say Lopez is just one of dozens of political prisoners the government has detained for speaking out.
Rosales' wife, Evelyn Trejo de Rosales, is mayor of Maracaibo, the largest city in Zulia. She told a crowd of supporters that the best way they could show their solidarity would be to vote in December.
"Today Manuel sacrificed his freedom for you, and it was not in vain," she said. "We will set him free again."