Venezuela illegally issued 10,000 passports to Syrians, Iranians, report says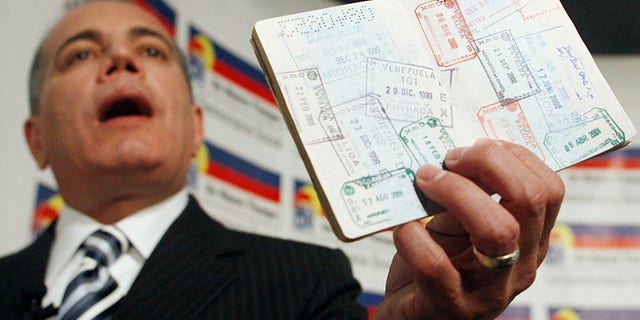 A former director of Venezuela's Office of Identification, Migration and Foreigners said that during his 17 months in the post, the socialist government gave at least 10,000 Venezuelan passports and other documents to citizens of Syria, Iran and other Middle Eastern countries.
In an interview with El Nuevo Herald, Colonel Vladimir Medrano Rengifo said the operation was headed by current Vice President Tareck El Aissami.
He said most passports and visas were granted in the Venezuelan Consulate in Damascus, Syria's capital.
"Today we don't know where these people are, nor what they are doing," said Medrano, who currently resides in the United States.
THE LONG COUP: WHY THERE IS NOTHING LEFT OF VENEZUELA'S DEMOCRACY
"They can be anywhere in the world, traveling with Venezuelan documentation," adding that the number of Middle Eastern individuals with irregular Venezuelan documentation could be much larger.
Colonel Medrano was dismissed in October 2009 by El Aissami, who was then Minister of Interior and Justice. According to Medrano, El Aissami fired him because he knew he was trying to dismantle the human smuggling network.
El Aissami, one of the most powerful men in Venezuela, has long been investigated in the United States for his alleged links to drug trafficking and to the Islamist militant group Hezbollah.
In January he became the most senior Venezuelan official to ever be targeted by the U.S., when the Trump administration decreed sanctions against him and Samark Lopez, a wealthy Venezuelan businessman believed to be his front man in Miami.
VENEZUELA PROTESTERS THROW EGGS, OBJECTS AT PRESIDENT DURING RALLY AS UNREST GROWS
In the Sunday interview, Medrano told El Nuevo Herald that El Aissami was directly involved in the passport scheme. He said that whenever his office reported irregularities involving Syria-issued passports, El Aissami ordered him to look the other way.
Medrano said the passports were legitimate, but the people carrying them were not Venezuelans.
"[El Aissami] called me every time these flights landed (…) and we tried to detain [the people carrying the suspicious passports]. He pressured us in an excessive manner so this would not be done and let his 'cousins' get in, as he called them," Medrano told the Herald.
US SANCTIONS VENEZUELA VICE PRESIDENT OVER DRUG TRAFFICKING
Upon review by immigration officials at the airport, Medrano explained, the identity linked to those passports turned out to belong to deceased persons, with a different name.
Venezuela, once the wealthiest South American nation, has fallen on increasingly hard financial times since Nicolás Maduro took power following the death of socialist leader Hugo Chávez in 2013.
A drop in global oil prices has crippled the country's economy and Venezuela has been plagued with the worst inflation rate in the world, close to 700 per cent last year, according to International Monetary Fund.