Venezuela and Colombia announce reopening of border starting Saturday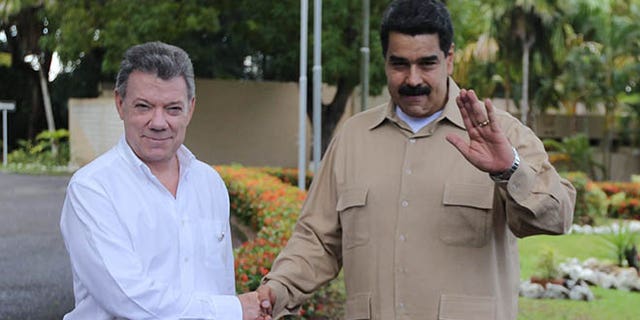 CARACAS, Venezuela (AP) – Venezuela and Colombia agreed Thursday to the gradual reopening of their border one year after the Venezuelan government closed crossings to crack down on smuggling.
The announcement came after Presidents Nicolas Maduro of Venezuela and Juan Manuel Santos of Colombia met in the Venezuelan city of Puerto Ordaz.
The two agreed to begin the process starting Saturday. Officials will open five border checkpoints for pedestrians from 6 a.m. to 9 p.m. each day.
The weekend is sure to see a crush of Venezuelans flooding into Colombia to buy food and medicine.
Venezuelans have been desperate to cross into Colombia to buy basics as shortages worsen in their economically struggling country, an OPEC member that has been hit hard by the fall in oil prices. Some people in the towns on the Venezuelan side of the border have died after being refused permission to cross to better-stocked Colombian hospitals.
Hundreds of Venezuelans stormed a border checkpoint in July and illegally crossed into Colombia for the day to go grocery shopping.
In the weeks following that incident, Venezuela temporarily opened the border for short periods to allow people to buy food and medicine. More than 100,000 Venezuelans crossed into Colombia during a temporary weekend border opening in July. Many had driven in caravans through the night for a chance at snagging precious goods.
Venezuela's government closed all crossings a year ago to try to stem smuggling along the 1,378-mile (2,219- kilometer) border. Officials alleged that speculators were causing shortages in Venezuela by buying up subsidized food and gasoline and taking them to Colombia, where they could be sold for far higher prices.
Before the border was shut, more than 100,000 people crossed the border daily, Venezuela's government said. That number shrank to just 3,000 a day after the closure, nonprofit groups working in the region said. Some people were given special permission to cross, including students attending school in Colombia and some chronically ill patients.
Smuggling of price-controlled gasoline and food into Colombia fell 70 percent after the closure, according to the Venezuelan National Guard.
Santos said Thursday that the reopening would be a slow process.
"It will be a provisional opening as we learn and adjust our decisions every step of the way," he said
Like us on Facebook
Follow us on Twitter & Instagram