Venezuela AG accuses president of 'destroying legacy' of late Hugo Chavez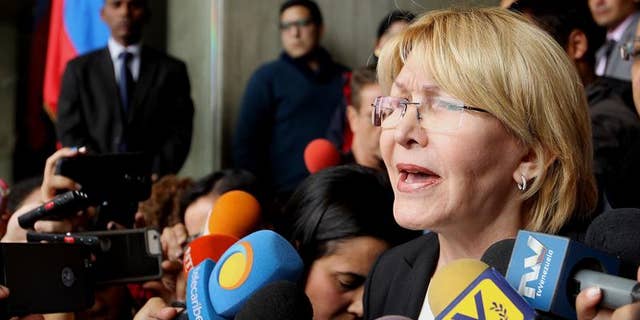 NEWYou can now listen to Fox News articles!
Venezuela's chief prosecutor asked the Supreme Court to block President Nicolas Maduro's plan to convene an assembly to revise the constitution, further deepening her divide with the government.
Luisa Ortega Diaz accused Maduro and his administration of "destroying the legacy" of the late President Hugo Chavez, the founder of the governing leftist PSUV party and mentor of the incumbent head of state.
"Chavismo is a current of thought, it's a philosophy of life, and this is the principal legacy of President Hugo Chavez," the attorney general said.
Ortega Diaz's remarks were her strongest repudiation yet of Maduro's effort to rewrite the nation's constitution.
ALL EYES ON VENEZUELAN MILITARY AS COUNTRY TEETERS
A long-time government loyalist, Ortega Diaz first broke publicly with the Maduro administration in late March when she decried a Supreme Court decision gutting congress of its last remaining powers. Since then, the gulf between Ortega Diaz and the government has only grown, with has repeatedly questioning the validity of convoking a constitutional assembly without the proposal first facing a referendum.
Maduro ordered the National Electoral Council to convene the assembly, stating it was his constitutional right, a position the opposition rejects. He also designed the rules by which delegates to the assembly would be elected. The government-stacked council quickly rubber stamped both requests and is moving forward to hold the elections in late July.
PROTESTER AND GUARDSMAN KILLED AS VENEZUELA UNREST PERSISTS
Ortega Diaz is accusing the National Electoral Council of breaking key democratic principles such as universal suffrage in approving Maduro's constitutional assembly. Maduro's terms call for allotting a specific number of votes to specific population sectors such as the disabled, fishermen and retirees, as well as one per municipality. Analysts say those terms will heavily favor the government.
"The appeal I am attempting is to defend the rule of the people," she said.
STOSSEL: WHAT VENEZUELA NEEDS MOST RIGHT NOW. HINT: IT'S CALLED CAPITALISM
Her actions were immediately embraced by members of the opposition who until the current crisis accused her of being Maduro's enabler.
"If hundreds of thousands of Venezuelans join the chief prosecutor it would represent a huge act of pressure and protest," said Freddy Guevara, who has been spearheading the anti-government demonstrations as vice president of the opposition-controlled congress.
The Associated Press and EFE contributed to this report.