Vast luxuries found in Mexican prison where riot killed 49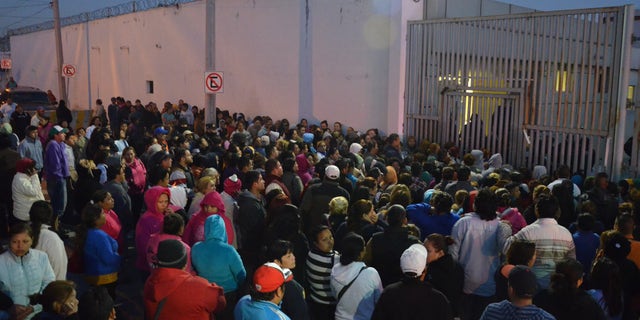 NEWYou can now listen to Fox News articles!
MONTERREY, Mexico – Vast luxuries such as saunas, a bar, food stands and appliances were discovered by authorities entering a prison in northern Mexico to investigate a riot that killed 49 inmates.
Nuevo Leon state authorities said in a statement late Sunday that the cells inside Monterrey's Topo Chico prison were outfitted with mini fridges, air conditioners, digital cable and aquariums. There were 280 food and grocery stands where inmates could buy goods.
The riot broke out Thursday between two rival factions of the Zetas drug cartel.
Heavy machinery was brought in to haul away tons of contraband furniture and other goods that authorities had piled in the prison yard, the statement said.
It added that police destroyed hundreds of altars to the Death Saint — some of them life-size. The folk figure is revered by drug traffickers and some people among the downtrodden.
"We knew about all of the irregularities that existed, arbitrary acts, abuses, taxes," Gen. Cuauhtemoc Antunez, the state's security secretary, said in the statement. Authorities did not say how long the abuses had occurred or who allowed them.
Nuevo Leon Gov. Jaime Rodriguez said last week that 60 hammers, 86 knives and 120 shivs were used in the melee.
The prison's director, superintendent and a guard have been arrested on murder charges.
On Monday, a United Nations official called on Mexico's government to conduct an exhaustive investigation of a prison riot that killed 49 last week.
Special rapporteur for torture Juan Mendez said in statement that the government must guarantee that the victims' families know what happened during the Thursday riot at the Topo Chico prison in the northern city of Monterrey.
The investigation should identify those responsible and include reparations for the victims' relatives, Mendez said.
The U.N. official toured the prison in 2014. He said he witnessed horrible conditions and lax rules that allowed prisoners to govern themselves and led to violence.
__
Associated Press writer Christopher Sherman in Mexico City contributed to this report.