US service members killed in suicide blast in Syria, officials say
Four Americans were among several people killed by a suicide blast that struck near a U.S.-led coalition patrol in Syria on Wednesday.
Operation Inherent Resolve, the U.S.-led coalition against ISIS, originally confirmed that U.S. service members were killed during the explosion while conducting a routine patrol in the country.
Later, U.S. Central Command said in a news release: "Two U.S. servicemembers, one Department of Defense (DoD) civilian and one contractor supporting DoD were killed and three servicemembers were injured while conducting a local engagement in Manbij, Syria, Jan. 16, 2019."
The suicide attack hit near the main market in the northern city of Manbij, witnesses told Reuters. The U.K.-based Syrian Observatory for Human Rights reported 16 people were killed in the incident, although officials have not confirmed the number of casualties.
Photos and videos showed damage to a restaurant, vehicles and other nearby buildings. Debris and blood covered the street.
ISIS ATTACK IN SYRIA LEAVES 2 BRITISH SOLDIERS SERIOUSLY INJURED, REPORT SAYS
The Islamic State group claimed responsibility for the blast, saying one of its members carried out a suicide attack and detonated his vest with explosives. The Observatory and the Kurdish-led Manbij Military Council, which runs the town, also said a suicide bomber was involved but did not immediately have any further details.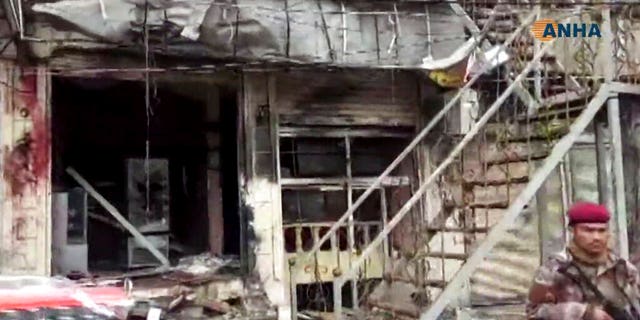 Acting Defense Secretary Patrick Shanahan reacted to the deadly attack.
"Allow me to extend on behalf of the Department of Defense our thoughts and prayers to the families and team members of those killed and wounded during today's attack in Manbij," Shanahan said. "Our fight against terrorism is ongoing and we will remain vigilant and committed to its destruction."
"Today is a stark reminder of the dangerous missions our men and women in uniform perform on our behalf each and every day," he said.
TRUMP TOUTS 'LONG OVERDUE' SYRIA PULLOUT, SAYS U.S. 'WILL DEVASTATE TURKEY ECONOMICALLY' IF THEY ATTACK KURDS
The attack comes just days after Trump tweeted the "long overdue pullout" of U.S. soldiers from Syria had begun. He announced in December he would be pulling out about 2,000 American troops in Syria.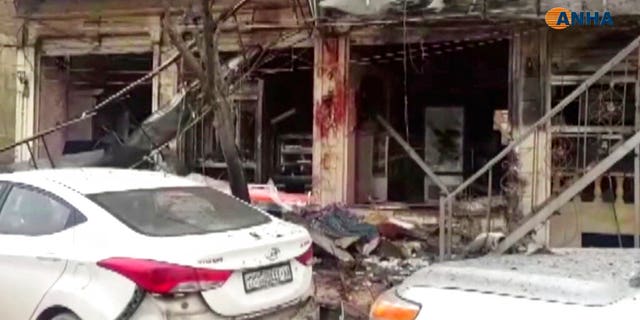 "Starting the long overdue pullout from Syria while hitting the little remaining ISIS territorial caliphate hard, and from many directions. Will attack [ISIS] again from existing nearby base if it reforms," the president tweeted on Sunday.
Vice President Pence also defended Trump's decision, saying in a speech at the State Department on Wednesday that the Islamic State "caliphate has crumbled" and the militant network "has been defeated."
Pence also released a statement saying: "President Trump and I condemn the terrorist attack in Syria that claimed American lives and our hearts are with the loved ones of the fallen. We honor their memory and we will never forget their service and sacrifice."
"Thanks to the courage of our Armed Forces, we have crushed the ISIS caliphate and devastated its capabilities. As we begin to bring our troops home, the American people can be assured, for the sake of our soldiers, their families, and our nation, we will never allow the remnants of ISIS to reestablish their evil and murderous caliphate – not now, not ever," the statement continued.
CLICK HERE FOR THE FOX NEWS APP
A U.S. defense official told Fox News last week that the U.S.-led military coalition in Syria started the process of removing troops from the region, but wouldn't confirm further details citing security reasons.
Fox News' Lucas Tomlinson, Elizabeth Zwirz and The Associated Press contributed to this report.