US governor visits NKorea in bid to calm tensions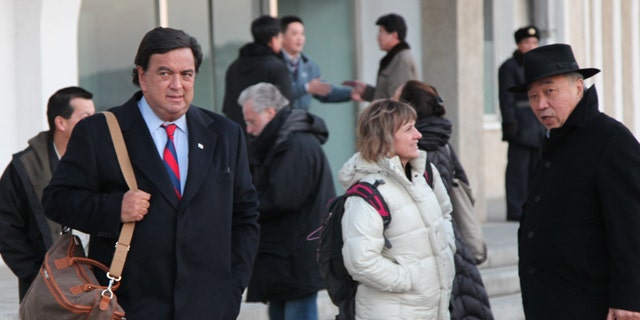 NEWYou can now listen to Fox News articles!
SEOUL, South Korea – A high-profile U.S. state governor visited North Korea on Friday trying to ease tensions on the Korean peninsula as South Korea planned to conduct artillery drills similar to ones that prompted Pyongyang to shell a front-line island last month.
New Mexico Gov. Bill Richardson, who has frequently been an unofficial envoy to the North, began the first full day of his trip, though details of his schedule were unclear. He was greeted at Pyongyang's airport by a senior North Korean official after telling reporters in Beijing he expected to be given some sort of message by the North.
"My objective is to see if we can reduce the tension in the Korean peninsula," Richardson said at the airport in North Korea, according to Associated Press Television News. "I'm going to have a whole series of talks with North Korean officials, and I look forward to my discussions."
Meanwhile, in South Korea, the Joint Chiefs of Staffs said in a statement that marines based on Yeonpyeong Island, a tiny fishing community with military bases near the Koreas' disputed sea border, will stage one-day live-fire drills sometime between Saturday and Tuesday. Weather and other factors will determine the exact time.
Similar artillery exercises Nov. 23 were met with a rain of North Korean shells that killed two marines and two construction workers, destroyed homes and shops and raised fears of renewed war. The North says the waters around the island are its territory. The assault was the first by the North to target a civilian area since the end of the 1950-53 Korean War.
The South Korean statement said the impending Yeonpyeong drills are part of "routine, justified" exercises that the South regularly conducts to protect its western islands. Representatives of the American-led U.N. Command that oversees the armistice that ended the Korean War will observe the drills on the island, which is just seven miles (11 kilometers) from North Korean shores.
Marines will fire artillery to the southwest, away from North Korea. "We are holding the drills with full preparation to deal with" any attacks from the North, a Joint Chiefs of Staff officer said, speaking on condition of anonymity, citing department rules.
In Washington, State Department spokesman P.J. Crowley called the exercises routine and said they pose no threat.
"North Korea should not see these South Korean actions as a provocation," Crowley told reporters Thursday.
Still, Gen. James Cartwright, vice chairman of the Joint Chiefs of Staff, voiced worry of a potential chain reaction of firing and counter-firing if the drill is misunderstood or if North Korea reacts negatively.
"What you don't want to have happen out of that is for us to lose control of the escalation," he told reporters at the Pentagon. "That the concern."
Baek Seung-joo, of the state-run Korea Institute for Defense Analyses in Seoul, said North Korea is unlikely to shell South Korea again in response to the drills because it knows Seoul's response will be strong.
The North might ramp up its threatening rhetoric, Baek said, or conduct its own artillery drills "as part of a face-saving measure." But, he said, "Another provocation would be a suicidal act."
Shortly after the South announced the drills, Richardson arrived in North Korea and was greeted at the airport by North Korean diplomat Ri Gun, according to Associated Press Television News.
In Beijing, U.S. Deputy Secretary of State James Steinberg held closed-door meetings with Chinese State Councilor Dai Bingguo. Beijing's top foreign policy official returned last week from talks in Pyongyang with North Korean leader Kim Jong Il. China has come under growing pressure to push ally North Korea to change its behavior.
The U.S. special envoy for six-party talks, Sung Kim, who accompanied Steinberg in Beijing, planed to arrive in Seoul later Friday for talks with South Korean nuclear envoy Wi Sung-lac.
A former U.N. ambassador, Richardson often has been an unofficial diplomatic troubleshooter, including missions to secure the release of hostages in Sudan, Iraq and North Korea.
Richardson said he requested a visit to the North's main nuclear facility at Yongbyon. The Democratic governor, who leaves office at the end of the month, was invited to North Korea by Kim Kye Gwan, who has served as the country's chief negotiator in stalled six-nation nuclear disarmament talks. Richardson is expected to leave Monday.
The U.S. State Department has said Richardson isn't delivering a message to North Korea from the U.S. government. However, Richardson's contacts with North Korean officials may provide insights for diplomats trying to persuade North Korea to abandon its nuclear weapons program.
Pyongyang is believed to be seeking bilateral talks with the United States before returning to the six-nation negotiations hosted by China. Those talks also include South Korea, Japan, and Russia.
North Korea's Foreign Ministry, in a statement carried Thursday by the country's official Korean Central News Agency, said: "Though we support all proposals for dialogue, including the six-way talks, out of desire to prevent a war on the Korean peninsula and realize denuclearization, we will never beg for dialogue."
The ministry said North Korea wants peace so it can secure foreign investments and build a powerful and prosperous country in 2012, the 100th anniversary of the birth of the country's founder, Kim Il Sung, father of Kim Jong Il.
The ministry also accused the United States of avoiding proposals for dialogue and creating a warlike atmosphere on the Korean peninsula.
___
Associated Press writers Hyung-jin Kim in Seoul, Christopher Bodeen in Beijing and Matthew Lee in Washington contributed to this report.