US envoy in Uruguay concerned over missing ex-Gitmo prisoner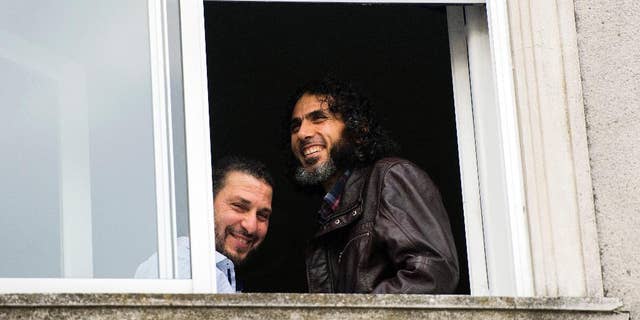 NEWYou can now listen to Fox News articles!
MONTEVIDEO, Uruguay – The new U.S. ambassador in Uruguay expressed concerns Monday about the lack of information on one of six former Guantanamo prisoners who were resettled in the South American country after being released by U.S. authorities in December 2014.
The location of Abu Wa'el Dhiab, a native of Syria, has been a mystery the past few weeks. Uruguayan authorities insist Dhiab is visiting Brazil and say that as a refugee he is entitled to travel out of the country, but Brazilian federal police have said there is no record of him entering that country.
In her first news conference since taking up the post last month, U.S. Ambassador Kelly Keiderling said questions needed to be answered about Dhiab's whereabouts.
Dhiab "could be, yes, theoretically," a threat, she said. "Everything is being done to understand what are the threats and find ways to reduce them," she said.
Keiderling declined to give details about the resettlement agreement between the U.S. and Uruguayan governments, which some reports have said included a provision banning travel by the six former Guantanamo prisoners for a period of time.
Keiderling said it is up to Uruguay to say whether Dhiab is free to travel outside the country, though she added that she would prefer he stay in Uruguay.
She said the U.S. is sharing information with Uruguay and Brazil in the effort to locate Dhiab.
Dhiab, who suffers from health problems related to hunger strikes he undertook in detention at Guantanamo, has been especially vocal about his unhappiness at being in Uruguay.
Jon Eisenberg, a California lawyer who represented Dhiab when he was at Guantanamo, told The Associated Press last week that he was skeptical of reports that Dhiab had left Uruguay. Eisenberg said they spoke by phone June 5 and Dhiab mentioned that he would be out of touch for the entire Muslim holy month of Ramadan, which ended last week, and for the following week.
Avianca Airlines last week issued an internal alert saying Dhiab could be using a fake passport trying to enter Brazil, the site of the summer Olympics. The airline said the alert was issued based on information provided by Brazil's federal police.