Unrest Grows in Greek Government With Debt Deal in Doubt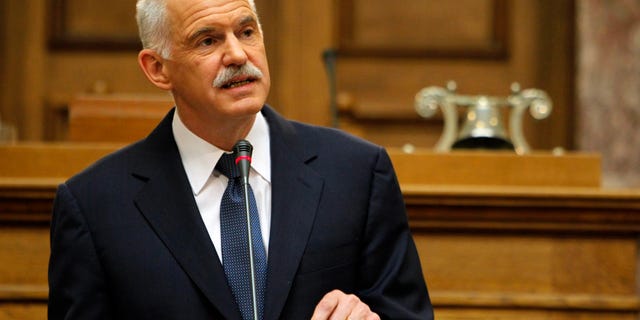 ATHENS, Greece – The Greek government teetered and stock markets around the world plummeted Tuesday after a hard-won European plan to save the Greek economy was suddenly thrown into doubt by the prospect of a public vote.
One day after Prime Minister George Papandreou stunned Europe by calling for a referendum, the ripples reached from Athens, where some of his own lawmakers rebelled against him, to Wall Street, where the Dow Jones industrial average plunged almost 300 points.
Papandreou convened his ministers Tuesday night, and a spokesman said the prime minister was sticking to his decision to hold the referendum, which would be the first since Greeks voted to abolish the monarchy in 1974. Papandreou has also called a vote of confidence in his government, to be held midnight Friday.
"The government is not falling," said Angelos Tolkas, a deputy government spokesman.
Under a recently amended law, a referendum can be called by presidential decree on issues of grave national concern, if it is proposed by the cabinet and approved by absolute majority in the 300-member parliament.
Greece's government spokesman says a marathon Cabinet meeting has concluded with ministers expressing unanimous support for Prime Minister George Papandreou's surprise decision to call for a referendum on a hard-won European plan to rescue the Greek economy.
Ilias Mossialos said early Wednesday that the referendum will be held "as soon as possible" once the basics tenets of the debt agreement have been reached.
Papandreou's decision upended a deal that was the product of months of work by European leaders who were trying, sometimes opposed by their own people, to agree the details of a second bailout for Greece and shore up their own economies in the name of saving the euro, the common currency.
The deal would require banks that hold Greek government bonds to accept 50 percent losses and provide Greece with about $140 billion in rescue loans from European nations and the International Monetary Fund.
But Greeks have been outraged by repeated rounds of tax increases and salary and pension cuts imposed as the government struggles to meet the conditions of a first, $153 billion bailout the country has been relying on since May 2010. With Greece facing a fourth year of recession next year, unions have held frequent strikes, and protests have often degenerated into riots.
A Greek rejection of the second rescue package could cause bank failures in Europe and perhaps a new recession in Europe, the market for 20 percent of American exports. It could also cause Greece to leave the alliance of 17 nations that use the euro.
European leaders made no secret of their displeasure.
"This announcement surprised all of Europe," said a clearly annoyed French President Nicolas Sarkozy, who has been scrambling to save face for Europe before he hosts leaders of the Group of 20 major world economies later this week.
"Giving the people a say is always legitimate, but the solidarity of all countries of the eurozone cannot work unless each one consents to the necessary efforts," he said.
French lawmaker Christian Estrosi was even more direct. He told France-Info radio that the move was "totally irresponsible" and reflected "a wind of panic" blowing on Papandreou and his party.
"I want to tell the Greek government that when you are in a situation of crisis, and others want to help you, it is insulting to try to save your skin instead of assuming your responsibilities," Estrosi said.
Sarkozy and German Chancellor Angela Merkel, who have been at the forefront of Europe's efforts to contain national debt, talked by phone and agreed to convene emergency talks Wednesday in Cannes, France. Papandreou will also attend.
Merkel also spoke by telephone Tuesday with Papandreou, his office said.
The response was brutal in the international financial markets, especially in Europe. Greece's general price index plunged to close down 6.92 percent, while in Germany the Dax index, the major stock market average, lost 5 percent — the equivalent of about 600 points on the Dow.
The French stock market closed down 5.4 percent, the Italian 6.7 percent and London 2.2 percent.
"Talk about your all-time bonehead moves," said Benjamin Reitzes, an analyst at BMO Capital Markets.
In New York, the stocks of major banks like Citigroup and JPMorgan Chase were hit hard. The value of the dollar rose, and bond prices jumped so dramatically that analysts said they were stunned.
Analysts said the bond action reflected fears that the turmoil in Greece would tear at the fabric of Europe's financial system and create a crisis that could engulf the entire European Union, which together forms the world's largest economy.
"This brings all of the concerns about Europe back to the front burner," said Scott Brown, chief economist at Raymond James. "If this ends up turning into a financial catastrophe in Europe, then no one will escape it."
Papandreou's decision was such a surprise that even the finance minister, Evangelos Venizelos, apparently did not know about it ahead of time. He was unable to make the ministers' meeting Tuesday after being hospitalized with stomach pains. He was to remain in the clinic overnight.
The main opposition conservatives called for Papandreou's resignation. But criticism was also intense from Papandreou's own Socialists, who have been clinging to a shrinking parliamentary majority.
A public vote would allow the party, vilified by an increasingly hostile public during months of strikes, sit-ins and violent protests over austerity measures, to shift responsibility for the country's fate to the Greek people themselves.
But it was unclear whether Papandreou's government would last long enough for the referendum to take place — or even until Friday's confidence vote.
Several Socialist lawmakers openly rebelled, with one going as far as defecting. Milena Apostolaki's departure whittled Papandreou's parliamentary majority to just two deputies, leaving the party with 152 seats in the 300-member legislature.
Apostolaki's departure "shows clearly that the government itself is losing gradually its cohesion," said George Tzogopoulos, a political analyst from the Hellenic Foundation for European and Foreign Policy.
He estimated that "that the government will not be able to remain in power for many days" and said it was likely that Papandreou "will call an early election very soon."
Papandreou did not ask for a vote last year, when Greece got its first round of international bailouts, about the same size as what is being debated now. Some lawmakers wondered why he called for one this time.
"Yesterday's surprise and irrational announcement of the referendum has led me to doubt something that I considered certain until yesterday: That I am a member of a group that is striving to save our country from bankruptcy," Socialist deputy Hara Kefalidou said in a letter to Papandreou. "I cannot back a referendum which is a subterfuge by a government that appears unwilling to govern."
Jean-Claude Juncker, who chairs eurozone ministerial meetings, said the referendum was a dangerous decision that could endanger Greece's next installment of bailout loans — without which the country will run out of money in mid-November.
Juncker told RTL radio in Luxembourg that the vote proposal changes the conditions of that deal, according to his spokesman, Guy Schuller.
It was not only international leaders who were taken by surprise.
Venizelos, the finance minister, "found out about it along with all other Greeks" during Papandreou's speech, which was televised live, an official close to Venizelos told The Associated Press. The official spoke on condition of anonymity to discuss sensitive details.
From his hospital bed, Venizelos launched a telephone campaign to shore up international support for the debt deal, speaking with the German finance minister, the head of Deutsche Bank and the monetary affairs chief for the European Union, among others.