UK's Cameron begins tour of EU states to push for reform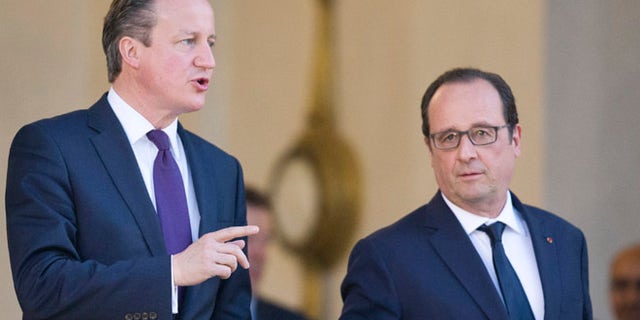 PARIS – British Prime Minister David Cameron met with the leaders of the Netherlands and France on Thursday, as Cameron began a whirlwind visit to four European capitals, pressing his case that the U.K. needs to renegotiate its relationship with the European Union.
Speaking in Paris at the Elysee Palace before a dinner, Cameron urged the bloc's 27 other members to be "flexible" and "imaginative" about the EU's future -- saying that his priority is "to make it more competitive and to address the concerns of the British people about our membership."
Cameron's newly-elected government plans a referendum by the end of 2017 on the question: "Should the United Kingdom remain a member of the European Union?"
Cameron wants Britain to stay in the EU, if he manages to negotiate a new, looser relationship with the group.
French President Francois Hollande, meanwhile, made reference to the planned referendum, saying that "France hopes that Great Britain stays in the European Union... We think that it's in the interests of Europe and in the interests of the United Kingdom to be together. But there is always respect for the people's wishes."
Both leaders highlighted common ground such as a wish to defeat international terrorism and tackle climate change -- and skirted over differences in their visions for the EU.
"So we have different priorities but we share a common objective: which is to find solutions to these problems (in the EU)," Cameron said.
Earlier in the day, Cameron started his tour in the Netherlands, having lunch with Dutch counterpart Mark Rutte, a center-right leader Cameron described as a "very good friend and very strong partner in Europe."
Cameron said he discussed with Rutte his reform agenda.
"The need for flexibility. The need to focus on growth and jobs. The need to make sure we complete the single market the need to make sure that, as you put it, Europe where necessary, but nation-states wherever possible," Cameron said.
Cameron will continue his tour Friday, meeting with the leaders of Poland and Germany, as part of his efforts to talk with all of the leaders of the EU member states before a European Council meeting late next month. A planned trip to Denmark was canceled because Prime Minister Helle Thorning-Schmidt called a snap election.
European leaders have expressed a desire to accommodate Britain, but it's unclear how far they will go to meet Cameron's desire for change -- especially to the right of EU citizens to live and work anywhere in the bloc.
Other leaders have warned Cameron that free movement within the bloc is non-negotiable, but he hopes to gain agreement to restrict immigrants' right to claim benefits for a period of up to several years.
Hours before Cameron arrived in Paris, French Foreign Minister Laurent Fabius warned Thursday that Cameron's plan for a referendum is "very risky."
Speaking on France-Inter radio, he said France is open to "improvements" in the way the EU functions, but "if it's about creating a specific status for Britain, so that it has advantages without constraints, then it's `No."'
British Foreign Secretary Philip Hammond said it was understandable that "some of our partners will adopt a hard line at the start of the negotiations."