Ukraine president says heavy weapons withdrawal in the east almost complete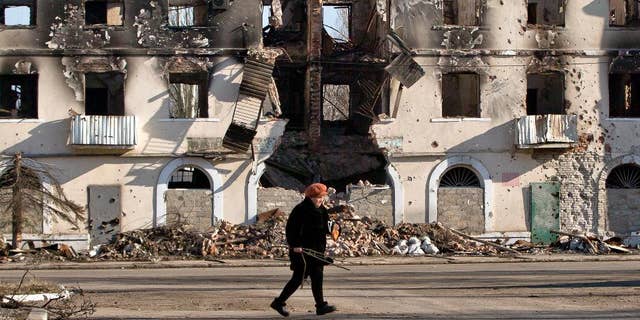 KIEV, Ukraine – Ukraine's president says government and rebel forces have pulled back most of their heavy weapons in the east, but each side accused the other on Tuesday of stalling on complying other terms of a cease-fire deal.
The cautious optimism articulated by Petro Poroshenko was tempered Tuesday by his foreign minister, who accused rebels of obstructing monitors tasked with verifying the pullback. A rebel spokesman accused Ukrainian forces of falling behind schedule in withdrawing weapons.
Poroshenko said in an interview with a state broadcaster Monday evening that some heavy weaponry remains in place near a combat flashpoint at the airport of the rebel-held city of Donetsk.
Some progress in the arms-withdrawal process agreed at high-level peace talks last month will boost attempts to bring a definitive end to a conflict that the U.N. estimates has killed more than 6,000 and displaced almost 1.8 million people.
The pullback is being overseen by hundreds of monitors from the Organization for Security and Cooperation in Europe, which has complained of a lack of cooperation by both of the warring sides.
Col. Andriy Lysenko, a spokesman for Ukraine's military operations in the east, said that government forces retain the option of returning the weapons to their original positions if hostilities resume.
"In order not to put out servicemen at risk on the front line, there is some artillery positioned not far away," he said. "In case of necessity, they will be brought back."
Lysenko also said troops still on the front line are equipped with heavy infantry weapons needed to repel any rebel advances. He did not specify what kind of weapons front line troops retain, but the term heavy infantry weaponry typically suggests mortars, grenade launchers and anti-tank guns.
Under the accord reached on Feb. 12 in the Belarusian capital, Minsk, heavy weapons are to be pulled back by distances between 25 and 70 kilometers (15 to 45 miles) from the front line, depending on their caliber.
Eduard Basurin, a representative for rebel armed formations, on Tuesday accused Ukrainian forces of running behind schedule in withdrawing some armaments.
Ukrainian Foreign Minister Pavlo Klimkin in turn accused rebels in the Donetsk and Luhansk regions of reducing the pullback of weapons to a "sham."
"(They) constantly bar the OSCE monitoring mission access to the withdrawal process," Klimkin said after attending a meeting of top security officials.
An OSCE report on Sunday's activity suggests both sides have obstructed the efforts of the monitoring mission. It listed a handful of instances when Ukrainian armed forces and rebel fighter ordered the OSCE team to stop following retreating arms convoys.
In his interview, Poroshenko said that exchanges of artillery and rocket fire have largely stopped along the 485-kilometer (300-mile) front, but that skirmishes with small arms and grenade launchers persist.
Interfax-Ukraine news agency cited military spokesman Anatoly Stelmakh as saying Tuesday that rebel forces had violated the cease-fire 12 times over the previous day.
The bulk of continued unrest has been concentrated around the separatist stronghold of Donetsk, but pitched battles are also taking place in the town of Shyrokyne, near the strategic port city of Mariupol.
Lysenko said fighting in Shyrokyne raged for more than three hours Monday.