UK couple poisoned by Novichok were contaminated after handling perfume bottle that broke, family member says
The British couple who were poisoned by Novichok had sprayed a container disguised as perfume that later broke in the man's hands when they were contaminated with the military-grade nerve agent, a family member said.
Charlie Rowley, 45, and his girlfriend Dawn Sturgess, 44, were sickened after coming in contact with the nerve agent on June 29. The next day, both of them collapsed within a few hours of each other.
Sturgess died in the hospital about a week later. Rowley was released from the hospital on Friday after he regained consciousness.
NERVE AGENT NOVICHOK, USED IN EX-SPY'S POISONING, IS 5 TIMES STRONGER THAN VX OR SARIN
Rowley's brother Matthew told The Sunday Telegraph his brother's memory about the incident is "vague," but the 45-year-old remembers handling a container that appeared to be a perfume bottle.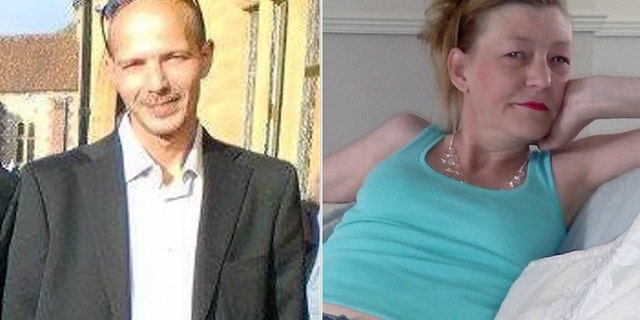 "He told me that they found something that looked like a perfume bottle. Dawn sprayed what was inside it on both her wrists and rubbed them together, like you do when you're trying perfume," Matthew told the news outlet.
"Charlie said she then gave the bottle to him and somehow it splintered or broke in his hands. That's how he must have got contaminated," he added.
UK MAN EXPOSED TO DEADLY NOVICHOK AGENT REGAINS CONSCIOUSNESS
Police said last week they found a small bottle in Rowley's apartment in Amesbury, about a 15-minute drive from Salisbury, where British authorities say a Russian ex-spy Sergei Skripal and his daughter Yulia were poisoned with Novichok in March.
Rowley was interviewed by police shortly after he regained consciousness. Several details still remain unclear, including where the bottle came from and how it ended in Rowley's home. The former mechanic and bar manager remains the primary witness to the crime.
"Charlie is so angry about what happened to Dawn. Really angry. He was fond of her and his daughter got on [sic] with hers. They were like a family to him," Matthew said.
Rowley's brother said he thought Rowley was going to die after he heard Sturgess had passed away.
"I was so thankful when they told me he had regained consciousness and was getting better and to talk to him on the phone at the hospital was such a relief," Matthew said. "I'm his older brother and I was so worried he was going to die."
Authorities are looking whether the couple's nerve agent exposure was linked to a recent attack on Skripal and Yulia, who were in critical condition for weeks but have since been discharged from the hospital.