U.S. treasury secretary to visit Puerto Rico as island seeks to revise reform plan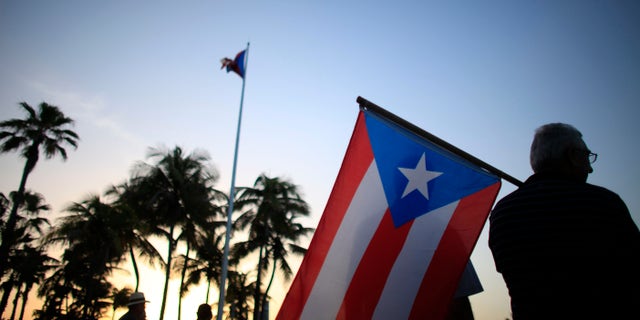 Puerto Rico announced it is revising its fiscal and economic reform plan ahead of an expected visit by U.S. Treasury Secretary Jacob Lew on Wednesday.
Lew is expected to visit the island territory on Wednesday and meet with government officials and business leaders to talk about Puerto Rico's financial situation.
The Puerto Rican government said the revision of the plan will reflect a jump on the island's projected deficit and steep drop in anticipated revenues.
Officials said the deficit is now projected to grow from $14 billion to $16 billion over the next five years due to the U.S. territory's worsening economic crisis. Officials also told reporters during a conference call that they expect revenue to fall by $1.7 billion over the same period.
The government also extended projections within the five-year plan by another five years at the request of creditors, noting that the deficit could grow to $24 billion by 2025.
The announcement comes as Puerto Rico seeks access to a bankruptcy mechanism as it struggles with $72 billion in public debt that the governor has said is unpayable and needs restructuring. The U.S. territory already has defaulted on several payments and faces its first lawsuit over the government diverting funds to meet certain payments.
The government also has implemented other measures to help maintain liquidity, including deferring payments to suppliers and withholding some $330 million in tax refunds.
"Continuation of these measures is neither sustainable nor in the interest of any stakeholder, as they will only deepen the financial gaps," said Secretary of State Victor Suarez.
The original fiscal reform plan was released in September and addresses only a portion of the island's debt. The plan calls for several measures such as merging state agencies, cutting subsidies to municipalities and extending legislation to freeze new hires and salary increases.
Portions of the plan require legislative approval, but government officials expect to negotiate with creditors soon as they warned that time was running out.
"The information contained in the updated plan makes all the more clear that actions must be taken before the Commonwealth runs out of options to pay its debt and provide essential services to the people of Puerto Rico," said Melba Acosta, president of the Government Development Bank.
In addition to his trip to the island this week, Lew also demanded that the U.S. Congress approve legislation by March to deal with Puerto Rico's crisis before it's too late.
The White House and Democrats in Congress say the United States needs to change the law to allow the territory to declare bankruptcy. Republicans say they want to fix the symptoms of the problem first.
Gov. Alejandro Garcia Padilla says that if Congress doesn't act soon, Puerto Rico is headed toward a "humanitarian crisis under the United States flag."
A rundown on what's wrong in Puerto Rico, and what Congress is considering doing about it:
___
MOUNTAINS OF DEBT
Puerto Rico's economic decline has been coming for years.
Coffee and sugar once fueled its economy, and as agriculture diminished, Puerto Rico got an economic boost from federal tax incentives that lured manufacturers, especially pharmaceutical companies, from the U.S. mainland. When Congress phased out those incentives a decade ago, Puerto Rico's economy suffered.
The territory's financial problems grew worse as a result of setbacks in the wider U.S. economy, and government spending in Puerto Rico continued unchecked as borrowing covered increasing deficits. Many people moved to the mainland U.S., reducing the island's tax base.
In just 15 years, Puerto Rico's debt tripled.
___
NO BANKRUPTCY
Like all U.S. states and territories, Puerto Rico cannot declare bankruptcy under federal law. Mainland municipalities and their utilities can; municipalities and utilities in Puerto Rico cannot. The island's public utilities are heavily indebted, and Garcia's administration is pushing Congress to allow them to declare bankruptcy.
Garcia signed a debt-restructuring law, but a federal judge ruled it unconstitutional after two major U.S. companies representing bondholders sued. The Supreme Court is preparing to hear an appeal on the issue this year.
Puerto Rico recently defaulted on $37 million in interest on bonds and faces its first lawsuit over diverting money to meet other bond payments.
___
WHAT CAN WASHINGTON DO?
The White House says a federal bailout is not under consideration. But the Obama administration has proposed creating a territorial bankruptcy process that would allow Puerto Rico's government to restructure its debt and impose new oversight on finances, among other measures.
Garcia, who has said he won't run for re-election, spent much of December in Washington lobbying Congress to include debt restructuring in a massive year-end spending bill. He blamed his creditors for lobbying against it.
The governor met with Speaker Paul Ryan, R-Wis., who later said the House will work with Puerto Rico to come up with "a responsible solution" by the end of March for the territory's debt problems.
Senate Majority Leader Mitch McConnell, R-Ky., hasn't made any similar promises. In a Jan. 12 letter, Senate Democratic leader Harry Reid of Nevada asked him to form a congressional task force to deal with the issue.
___
CONGRESSIONAL DIVIDE
It is unclear whether Congress will be able to meet Ryan's March deadline.
Democrats say allowing the island debt restructuring won't cost U.S. taxpayers and is the right thing to do.
Republicans have so far objected, saying they first want to address the root causes of the crisis and see more data on the island's finances. They have asked for audited financial statements that the territory has not yet provided.
Republicans are pushing for a federal financial control board that would help Puerto Rico get its finances in order, possibly similar to a board that helped guide the District of Columbia through a fiscal crisis two decades ago.
___
BACK ON THE ISLAND
Almost 10 percent of Puerto Rico's population has left in the last decade and hundreds of businesses have closed.
If the island isn't able to restructure its debt, officials have said they will have to start laying off police officers, firefighters, medical professionals and other public employees. Garcia has said that could lead to a humanitarian crisis.
Officials are hoping that lawmakers will be able to find a solution.
"This is the battleground," Garcia said when he was on Capitol Hill in December. "It's not over until it's over."
Based on reporting by the Associated Press.
Like us on Facebook
Follow us on Twitter & Instagram