U.S. Students Help Restore Kosovo's Neglected Jewish Cemetery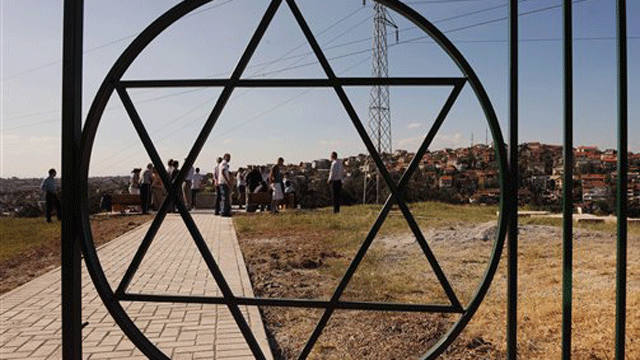 A row of tombstones etched in Hebrew script neatly line a meadow overlooking Kosovo's capital Pristina where barely a week ago children played soccer.
For a week, U.S. students from Dartmouth College joined their Kosovo peers from the American University in Kosovo in clearing debris and cut overgrown grass at this neglected Jewish cemetery, a lone remaining sign of a dwindling community in this majority Muslim country.
Ever since the end Kosovo's 1998-1999 war, these graves -- some of them dating back to the late 19th century -- lay mostly forgotten.
"You could hardly even see where any of the graves were," said Susan Matthews, 21, from Chatham, New York. "We had to essentially find and uncover the graves, take down all the brush that had grown up the hill wash all the stones so that we could read the etchings on them again," she said.
Matthews is among students visiting Europe as part of their inquiry into genocide. They arrived in Kosovo on June 17 from Poland where they visited the notorious Auschwitz concentration camp.
Rabbi Edward S. Boraz of The Roth Center for Jewish Life at Dartmouth College said the aim of the tour was to look at genocide "as a human problem not specific to any one group of people."
And part of the ongoing project is to also restore neglected Jewish cemeteries, Boraz said.
In Kosovo that meant clearing out weeds, cutting overgrown grass and once that was over hold a dedication ceremony that included reading the names of Jewish families from the region that perished during WWII.
After World War II Kosovo's small Jewish community dwindled. Some 300 perished at Bergen-Belsen concentration camp in Germany, Boraz said. Those that remained left for Israel and Serbia during and in the aftermath of the 1998-99 Kosovo war.
Some 10,000 people were killed during the Kosovo war as Serbia launched a brutal crackdown on independence minded ethnic Albanians and deported some 800,000 into neighboring Albania and Macedonia. After years of being administered by the United Nations following the war, Kosovo declared its independence from Serbia in 2008. Serbia has vowed never to accept Kosovo's statehood.
"We will never forget the crimes against humanity that were committed here during the 1990s and the suffering that occurred when innocent life was taken," Boraz said after the group lit candles and placed them on top of a newly built memorial.
"We begin to understand that genocide isn't something unique to a people but is a problem for all humanity to address," he said.