U.S. Flood Aid Shipment Arrives in North Korea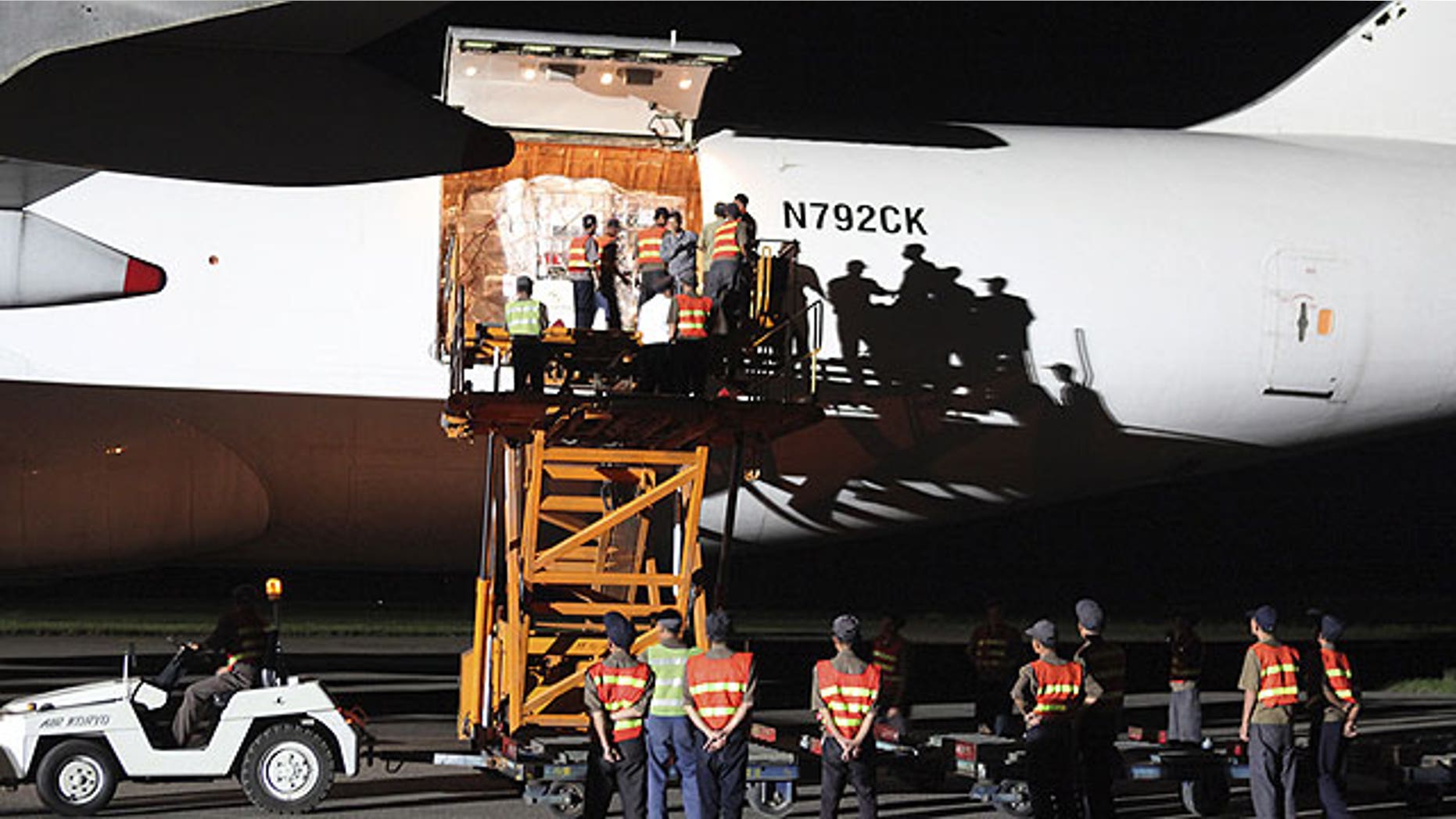 PYONGYANG, North Korea – The United States has provided a small yet symbolic shipment of emergency relief items to flood-hit North Korea, in the latest sign of thawing ties between the wartime foes.
Heavy rain and tropical storms have pounded North Korea in the past few months, leaving dozens of people dead or missing and displacing thousands of others. Washington has not responded with food aid, but pledged to provide emergency help for the flooding.
A cargo plane loaded with $900,000 worth of food, medical aid, soap, blankets and cooking kits from the United States touched down at Pyongyang's Sunan airport late Saturday, according to footage from the Associated Press Television News from the North Korean capital.
A group of officials from the North Carolina-based aid group Samaritan's Purse also flew to Pyongyang to watch the aid delivery process. The APTN footage showed airport workers clad in luminescent safety vests pulling pallets of shipments from the plane and loading them to airport vehicles in darkness.
"It is loaded with medicines, with food items for small children, with water filtration systems, blankets, other emergency relief supplies, for people here (in North Korea), who have been affected by the torrential rains, and the terrible flooding, that has come at a very difficult time," said Melvin Cheatham, special assistant to the president of Samaritan's Purse.
Samaritan's Purse said it has pledged $1.2 million in addition to the $900,000 that the U.S. government has allocated for aid to North Korea through U.S.-based charities.
The agency said it has worked with the U.S. government and several other Christian organizations to send the aid as they try to continue gaining humanitarian access to North Korea.
The aid delivery comes amid recent glimmers of diplomatic hope after more than a year of tension on the Korean peninsula, with the North allegedly torpedoing a South Korean warship and shelling a South Korean island. A total of 50 South Koreans died in the attacks.
American and North Korean officials met in New York in late July to discuss a possible resumption of long-dormant negotiations on ending the North's nuclear weapons program in return for aid and other concessions. Nuclear envoys of the two Koreas also met in July and agreed to work toward the talks' resumption, and Pyongyang said last month that it had accepted Washington's proposal to discuss recovering remains of American troops killed during the 1950-53 Korean War.
The United States fought alongside South Korea during the war, which ended with an armistice, not a peace treaty. The United States has not established diplomatic relations with North Korea and stations about 28,500 troops in South Korea to deter potential aggression by the North.
Heavy rain can be catastrophic for North Korea due to poor drainage, and flooding in previous years has destroyed crops and pushed the country deeper into poverty. The World Food Program said earlier this year that an estimated 6 million of North Korea's 24 million people would go hungry without help from outside donors due to the impact on the harvest.
However, there are persistent concerns among some governments that aid to the North is routinely diverted to its powerful military.
The U.S. State Department said that providing humanitarian assistance is separate from political and security concerns. "This emergency relief demonstrates our continuing concern for the well-being of the North Korean people," it said in a statement.
Even a small amount carries weight, one analyst said.
"However small they may be, aid offers and other developments enhance the mood for greater political cooperation," said Kim Young-yoon, a senior researcher at the state-funded Korea Institute for National Unification in Seoul.