U.S. Court Decision On Argentinian Bond Debt Would Force 'Inevitable' Default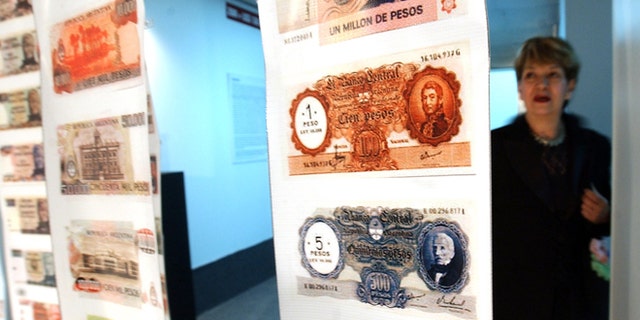 NEWYou can now listen to Fox News articles!
Analysts say that it's "almost certain" that Argentina will technically default on its debt thanks to a handful of stubborn hedge funds, a U.S. District Court ruling from 2012 and the Supreme Court's decision on Monday not to review the case.
The long and the short of it is that unless the inflation-ridden South American country makes a special payment to a small group of investors to the tune of nearly $1.5 billion by the end of June, it won't be able to make its normal bond payment in the U.S. and will have to pay in Argentina, thereby going into "technical" default (a full default would occur if no payment was made anywhere). Paying in Argentina means the country is unilaterally changing the terms of the bonds.
Confused? You're not alone.
"This throws everything into chaos," Shannon O'Neil, a senior fellow at the Council on Foreign Relations, told Fox News Latino.
Like most complicated issues, it's a problem long in the making.
In 2001, Argentina defaulted on around $100 billion dollars of foreign debt—some $82 billion of that was in the form of sovereign bonds that were offered in New York--which led to the worst economic crisis in the country's history.
Argentina hasn't been able to borrow money since.
"They have been working very hard to get back into the financial markets that they haven't been in for a while now," O'Neil said.
Part of that work involved renegotiating that defaulted debt, and they worked out a deal to repay bondholders 30 cents for every dollar invested that around 93 percent of the holders agreed to. A small number, including funds that specialize in what's called "distressed debt" like Elliott Management and Aurelius Capital Management, held out for full repayment of their original investment.
They argued that the Argentinian government wasn't completely forthcoming about the amount of money at its disposal for repayment and was manipulating interest rates in order to craft the most lenient repayment agreement possible.
In 2012, a U.S. District Court judge, Thomas P. Griesa, ruled that the holdouts had a point and ordered the country to stop paying the restructured bonds accepted by the 93 percent until it had compensated the hedge funds their full investment, as much as one and a half billion dollars.
On Monday, the Supreme Court declined to hear the case, meaning that Argentina has until June 30 to pay both the hedge funds in full and to make its next regular bond payment or go into default.
What options does Argentina have?
"Not many," Paula Diosquez-Rice, principal economist at IHS Global Insight, the Massachusetts-based global financial risk analysis company, told FNL. "A technical default is almost unavoidable."
A technical default would occur if the government of President Cristina Fernández de Kirchner does as it has been threatening to do all week and changes the terms of the bonds by issuing payment in Argentine pesos.
Distressed debt funds are also known as "vulture funds," and the Argentinian government has been taking full advantage of that. The economic minister, Axel Kicillof, told reporters on Tuesday, "Vultures are vultures because they do not negotiate."
President Kirchner herself has taken to posturing on Argentinian television and in the press, saying things like: "One has to distinguish between a negotiation and extortion."
It's a charge both sides level at each other.
Elliott Management's senior portfolio manager, Jay Newman, recently told the Buenos Aires-based magazine Apertura, "It's been 10 years that we've been trying to negotiate with the Argentinian government."
While another default, technical or not, would damage the Argentinian economy, "It's a contained issue," O'Neil told FNL, "since it's difficult for them to borrow money anyway."
Diosquez-Rice agreed but added, "Uruguay might take a bit of a hit. It's one of the countries with the biggest ties financially to Argentina, and it's a small economy."
For Argentina, the nightmare scenario involves having to make immediate full restitution to the distressed debt funds while the 93 percent who did accept the reduced payment could still demand full payment.
Diosquez-Rice said, "For Argentina, the key is to kick the can down the road."
The problem is that Judge Griesa and the Argentina haven't seen eye to eye much. President Kirchner announced on Wednesday that her government was through negotiating the debt.
"The administration has to work with the judge," Diosquez-Rice said. "They don't have the same bargaining power that they once did in the case. His ruling will define the policies the country can take."
Of course, another full default wouldn't help anyone, including Elliott Management and Aurelius.
"They would reset the clock," Diosquez-Rice said. "Another legal case, another 10 years before anybody gets any money. Lawyer's fees. Nobody wants that."