U.S. Army to investigate allegations of sexual assault by military personnel in Colombia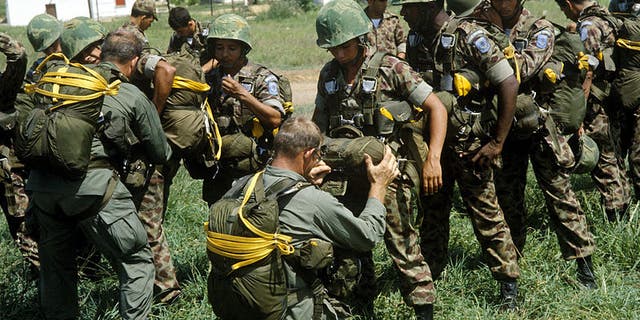 NEWYou can now listen to Fox News articles!
Officials at the U.S. Army Criminal Investigation Command (CID) said they will look into allegations that American Army personnel and military contractors sexually assaulted women and girls in Colombia.
The allegations were made last week in a scathing, 800-page report released by the Colombian government and the leftist guerilla group Revolutionary Armed Forces of Colombia, or FARC, claiming that more than 50 women and girls were raped between 2003 and 2007 by U.S. personnel.
"The U.S. Army Criminal Investigation Command will, after coordinating with Colombian authorities, initiate an investigation into any credible allegations of sexual assault or criminal acts committed by U.S. soldiers while in that country," CID chief of public affairs, Christopher Grey told Fox News Latino in an e-mail message. "We take this issue very seriously and will aggressively pursue all credible allegations."
The most recent revelations—according to the Medellín-based, English-language news site, Colombia Reports—involve U.S. Army personnel and contractors from the Fort Worth-area DynCorp International who were stationed at the Tolemaida air base in the town of Melgar, some 60 miles southwest of Bogotá.
The report claimed that more than 50 women and girls were assaulted by U.S. personnel, "who moreover filmed [the abuse] and sold the films as pornographic material," according to Colombia Reports.
Grey told USA Today that there is no record that these attacks were reported to local police.
One allegation that has caused controversy in Colombia is the case of a 12-year-old girl who claimed that in 2007 she was raped by a U.S. Army and a former U.S. military officer who was working in Melgar as a military contractor.
Grey told the newspaper that Army investigators have tried to talk to the alleged victim in that case, but the girl's attorneys have refused to participate in the investigation.
But others claim that the cases have gone unpunished because American soldiers are operating with impunity.
Renan Vega of the Pedagogic University in Bogota told teleSUR that soldiers are granted diplomatic protection, therefore feel they are above the law.
"There is abundant information about the sexual violence, which occurred under absolute impunity because of the bilateral agreements and the diplomatic immunity of United States officials," Vega told teleSUR.

This is not the first time that U.S. personnel have been accused of inappropriate sexual conduct in the country. In April 2012, nearly a dozen Secret Service agents were alleged to have invited prostitutes to their hotel rooms in Cartagena, ahead of President Obama's trip to the Summit of the Americas, and a Justice Department report released last month found Drug Enforcement Administration agents were attending sex parties with prostitutes supplied by drug cartels while stationed in Colombia.
According to the governmental agency National Victims Unit, 7,234 Colombian women have been registered as victims of sex crimes during the past 50 years, when the civil war in Colombia began.
The Colombian government has been in peace talks in Havana, Cuba, with the FARC since August 2012. A second leftist guerilla group, the ELN, has chosen not to negotiate with the government.
Like us on Facebook