Twister kills 13 in Mexico border city; 12 missing in Texas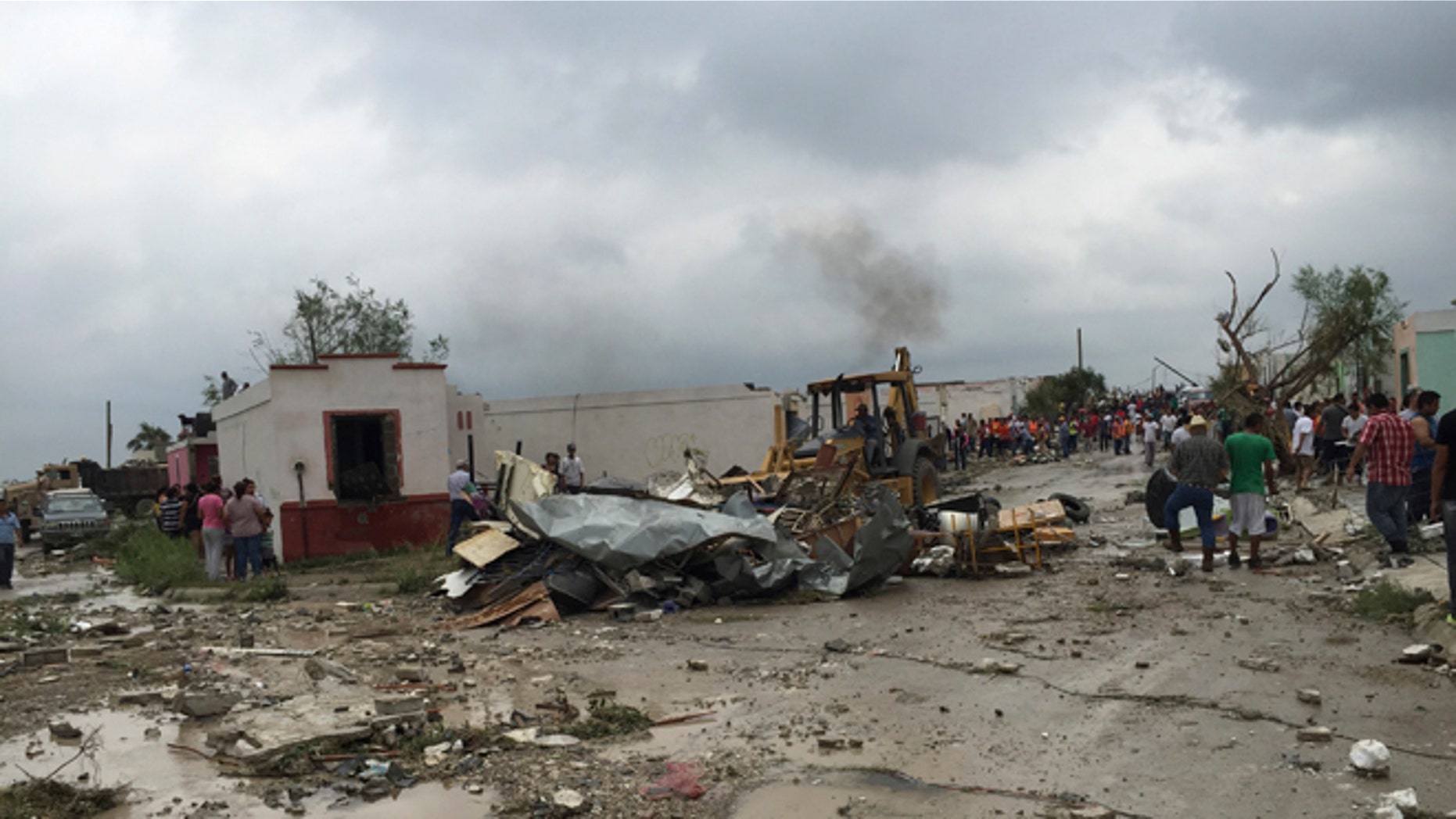 A tornado raged through a city on the U.S.-Mexico border Monday, destroying homes, flinging cars like matchsticks and ripping an infant from its mother's arms. At least 13 people were killed, authorities said.
In Texas, at least 3 people are dead and 12 people were reported missing after the vacation home they were staying in was swept away by rushing floodwaters in a small town popular with tourists.
The baby was also missing after the twister that hit Ciudad Acuna, a city of 125,000 across from Del Rio, Texas, sent its infant carrier flying. Rescue workers began digging through the rubble of damaged homes in a race to find victims.
The twister hit a seven-block area, which Victor Zamora, interior secretary of the northern state of Coahuila, described as "devastated."
Mayor Evaristo Perez Rivera said 300 people were being treated at local hospitals, and up to 200 homes had been completely destroyed. Three people were unaccounted for.
"There's nothing standing, not walls, not roofs," said Edgar Gonzalez, a spokesman for the city government, describing some of the destroyed homes in a 3-square kilometer (1 square mile) stretch.
By midday, 13 people were confirmed dead — 10 adults and three infants.
Family members and neighbors gathered around a pickup truck where the bodies of a woman and two children were laid out in the truck's bed, covered with sheets. Two relatives reached down to touch the bodies, covered their eyes and wept.
Photos from the scene showed cars with their hoods torn off, resting upended against single-story houses. One car's frame was bent around the gate of a house. A bus was seen flipped and crumpled on a roadway.
The twister struck not long after daybreak, around the time buses were preparing to take children to school, Zamora said.
Mexican President Enrique Pena Nieto said he planned to travel to Acuna later in the day with officials from government agencies.
In the U.S., a line of storms that stretched from the Gulf of Mexico to the Great Lakes dumped record rainfall on parts of the Plains and Midwest, spawning tornadoes and causing major flooding that forced at least 2,000 Texans from their homes.
A 14-year-old boy and his dog were found dead in a suburban Dallas storm drain Monday evening. Investigators say both apparently had drowned but their investigation continues.
A police statement says Damien's family had reported him missing about 10 p.m. Sunday after one of his two dogs showed up alone at the house, wet and extremely muddy.
The family said Damien was last seen with his two dogs about 4 p.m. that afternoon and that he enjoyed exploring the culverts and storm drains of his neighborhood.
Authorities have said at least one other person was killed in flooding on Sunday, and a high school senior died Saturday night after her car was caught in high water.
Witnesses reported seeing the swollen Blanco River push the vacation house off its foundation and smash it into a bridge. Only pieces of the home have been found, according to Hays County Judge Bert Cobb.
One person who was rescued from the home told workers that the other 12 inside were all connected to two families, Cobb said.
The two-story house sat about 50 feet from the normal river bank and about 20 feet above it, closer than any of the houses further up a slope.
Carissa Smith owns property next to the home. She tells The Associated Press that her mother, who lives on the property, described the sound of "firecrackers" during the flooding but said she couldn't see anything in the dark and torrential rain.
The house was in Wimberley Valley, an area known for its bed-and-breakfast inns and weekend rental cottages.
Dana Campbell, a retired engineer who lives on a bluff above the river, said the floodwaters left behind damage that resembled the path of a tornado "as far as the eye can see."
The storms were blamed for three deaths Saturday and Sunday, including two in Oklahoma and one in Texas, where a man's body was recovered from a flooded area along the Blanco River, which rose 26 feet in an hour and created huge piles of debris.
Texas Gov. Greg Abbott flew over parts of the Blanco on Monday, a day after heavy rains pushed the river into surrounding neighborhoods.
Abbott said the storms had "relentless tsunami-type power." He urged communities downstream to monitor flood levels and take the threat seriously.
The governor added 24 counties to his disaster declaration, bringing the total to 37, most in the eastern half of the state.
Among the worst-affected communities were Wimberley and San Marcos, along the Blanco in the corridor between Austin and San Antonio.
About 1,000 homes were damaged throughout Hays County. Five police cars were washed away, and the firehouse was flooded, said Kristi Wyatt, a spokeswoman for San Marcos.
Rivers swelled so quickly that whole communities awoke Sunday surrounded by water. The Blanco crested above 40 feet — more than triple its flood stage of 13 feet. The river swamped Interstate 35 and forced parts of the busy north-south highway to close. Rescuers used pontoon boats and a helicopter to pull people out.
Hundreds of trees along the Blanco were uprooted or snapped, and they collected in piles of debris that soared 20 feet high.
"We've got trees in the rafters," said Cherri Maley, property manager of a house where the structure's entire rear portion collapsed with the flooding, carrying away furniture.
"We had the refrigerator in a tree," she said. "I think it's a total loss."
A tornado briefly touched down Sunday in Houston, damaging rooftops, toppling trees, blowing out windows and sending at least two people to a hospital. Fire officials said 10 apartments were heavily damaged and 40 others sustained lesser damage.
Dallas faced severe flooding from the Trinity River, which was expected to crest near 40 feet Monday and lap at the foundations of an industrial park. The Red and Wichita rivers also rose far above flood stage.