Turkey's pro-Kurdish leader denounces creation of safe zone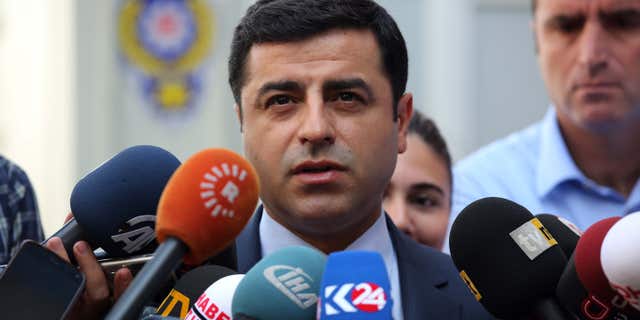 NEWYou can now listen to Fox News articles!
The leader of Turkey's pro-Kurdish party has denounces Turkey's and the U.S. decision to attempt to create a safe zone in Syria, saying it's just an attempt to keep the Kurds from forming it's own territory.
Selahattin Demirtas, chairman of the People's Democratic Party, told the BBC that Turkey's operation against the Islamic State was just an excuse to target PKK Kurds in northern Iraq. Demirtras has urged both parties to return to the negotiating table to discuss peace talks.
Turkey responded to Demirtas' comments saying the recent string of attacks by the Kurds in Turkey have made it impossible to talk peace. ISIS militants have also targeted Turkey in attacks, including one that killed 32 in the border town of Suruc last week.
The U.S. and Turkey have been working together to create a safe zone in northern Syria that would be cleared of ISIS militants. The BBC reports the area would also be used to train moderate opposition forces. Turkey is also hoping the zone would allow some Syrian refugees to return to their country.
However, Demirtas contends the real intention for Turkey was to prevent Syrian Kurds to gain territory.
"Turkey doesn't intend to target ISIS with this safe zone," Demirtas told BBC. "The Turkish government was seriously disturbed by Kurds trying to create an autonomous state in Syria."
Demirtas also said that Turkish President Recep Tayyip Erdogan "would never let this happen and that we would intervene whatever the cost."
As violence escalated on Tuesday, NATO allies met in an emergency meeting at Turkey's request and proclaimed "strong solidarity" with the country's fight against the Islamic State group.
"The security of the alliance is indivisible," ambassadors from all 28 NATO nations declared in a joint statement after the meeting.
A NATO official told The Associated Press that member nations urged Turkey not to use excessive force in reaction to the terror attacks, while urging it to continue peace efforts with representatives of the Kurdish minority.
The special session of the alliance's main political decision-making body, the North Atlantic Council, was held at Turkey's request under a clause of NATO's founding treaty that empowers member countries to seek consultations if they believe their security, territorial integrity or political independence is at risk.
It was called after Turkish warplanes last week started striking militant targets in Syria in response to an Islamic State group suicide bombing in southern Turkey that left 32 people dead, and another IS attack on Turkish forces, which killed a soldier.
A serious of cross-border strikes have put Kurdish fighters in Turkey's crosshairs as well even as the Kurds help forces battling ISIS in Syria and Iraq.
The Syrian Kurds have been among the most effective ground forces in the fight against IS and have been backed by U.S.-led airstrikes, but Turkey fears a revival of the Kurdish insurgency in pursuit of an independent state.
The spike in violence in recent days has prompted concerns that a promising peace process between Turkey and Kurdish rebels is falling beyond repair.
German diplomats said Tuesday it would be a mistake for Turkey to brush off peace talks with the PKK now.
"We believe that it's right to continue the process of rapprochement and to build on the positive steps of the past years," a diplomat said, speaking on condition of anonymity because of the sensitivity of the issue.
The Kurds are an ethnic group with their own language living in a region spanning present-day Turkey, Iraq, Syria, Iran and Armenia. The Kurdistan Workers' Party, or PKK, has fought Turkey for autonomy for Kurds in a conflict that has claimed tens of thousands of lives since 1984.
In the past few days, the PKK has launched a number of attacks on Turkish security forces and Turkish jets have targeted both the PKK's mountainous headquarters in Iraq and Kurdish fighters in a Syrian village, a Kurdish militia and an activist group said.
On Tuesday, a Turkish soldier died after he was shot in the head by a Kurdish militant near the border with Iraq, Turkey said. In a second incident in Sirnak province, suspected PKK rebels hurled a bomb at a military vehicle, wounding one soldier, the state-run Anadolu Agency reported.
The developments follow a decision last week by Turkey's leaders to allow the U.S. to launch its own strikes against the Islamic State group from its strategically located Incirlik Air Base.
For some NATO members and independent observers, it's unclear whether Turkey's No. 1 target in the recent attacks is the Islamic State group or the Kurds, said Ian Kearns, director of the European Leadership Network, a London-based think tank.
"There is no difference between PKK and Daesh," Turkish Foreign Minister Mevlut Cavusoglu said Monday, using an Arabic acronym to refer to IS.
The Associated Press contributed to this report.