Turkey's Erdogan feted at rally in Germany, urges compatriots to vote ahead of election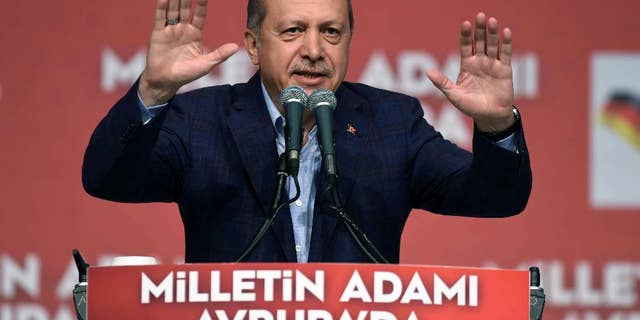 BERLIN – Speaking in Germany, Turkey's president has urged his countrymen to preserve their homeland's values and language and to vote in the upcoming Turkish election.
News agency dpa said President Recep Tayyip Erdogan received a warm welcome Sunday from over 14,000 people in the southwestern German city of Karlsruhe. Germany has a large ethnic Turkish minority, including many Turkish citizens who can vote in the June 7 parliamentary election.
Dpa said Erdogan didn't call directly for votes for his ruling AKP party but said: "No one can ignore you in the world if you vote. Not even those in the EU who held a minute of silence for Armenians can ignore you."
Germany's president has irked Turkey by describing the killings of Armenians by Ottoman Turks a century ago as genocide.