Tunisia army strikes Islamists in rugged mountains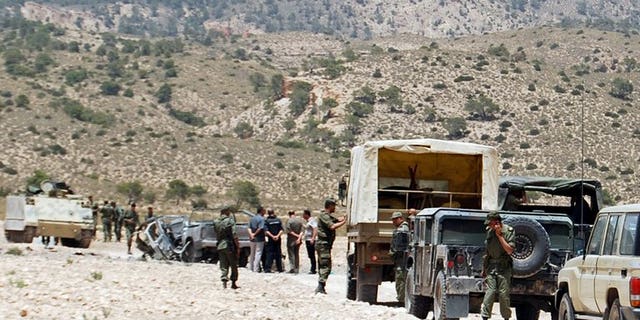 KASSERINE, Tunisia (AFP) – Tunisia's army on Monday bombarded suspected jihadist positions in a rugged mountain range near the Algerian border, as it kept up operations against Islamists following a deadly ambush on troops.
The offensive was launched on August 1, after eight soldiers were found with their throats cut after being ambushed by militants, and at a time of deep political crisis in Tunisia.
On Monday, troops bombarded the Sammama mountain near Mount Chaambi where Islamist militants, including veteran of a revolt in northern Mali, are believed to be hiding out, an AFP correspondent said.
An Islamist militant named as Mohamed Amri was arrested during the operation and admitted to having taken part in the 29 July ambush that killed the eight soldiers, a source told AFP and local media.
The militant was found to possess video footage taken with a mobile phone showing some of the soldiers having their throats slit, added the source close to the case, declining to be identified.
The suspect reportedly said the militants who ambushed the soldiers were of different nationalities, comprising Tunisians, Algerians, Malians and Senegalese.
Tunisia media have reported "terrorists" killed in the army operations, but the defence ministry refuses to comment on the offensive.
On the political front, a crisis pitting the opposition against the Islamist-led government in Tunis appeared to be deepening with both sides calling for rival rallies on Tuesday.
The opposition is demanding the resignation of the government and dissolution of the elected National Constituent Assembly since the July assassination of MP Mohamed Brahmi.