Trump says after North Korea summit that the world has taken 'step back' from 'potential Nuclear catastrophe'
President Trump on Tuesday touted the success of his summit with North Korean leader Kim Jong Un, thanking the rogue regime's ruler and saying "the World has taken a big step back from potential Nuclear catastrophe!"
Among the topics discussed at the historic summit held in Singapore was the "complete denuclearization of the Korean peninsula," of which Trump and Kim signed an agreement committing to pursue. The concession was one of the main requirements sought after by the U.S.
The timeline for the denuclearization was left unclear but Trump told Fox News that he thought it would start "virtually immediately."
JAPAN PM ABE: 'I HIGHLY PRAISE' TRUMP FOR SINGAPORE SUMMIT WITH KIM
While returning from the summit, Trump tweeted that there was "no limit to what NoKo can achieve when it gives up its nuclear weapons and embraces commerce & engagement w/ the world."
He highlighted "the opportunity" given to the dictator "to be remembered as the leader who ushered in a glorious new era of security & prosperity for his citizens!"
Trump also thanked Kim "for taking the first bold step toward a bright new future for his people."
Amid North Korea's development of their nuclear and ballistic missiles program, the country has faced severe diplomatic and economic sanctions. Both Trump, as well as Secretary of State Mike Pompeo, have said that the sanctions will continue until North Korea is denuclearized.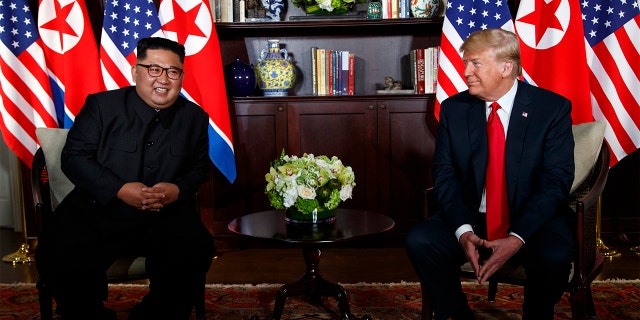 NORTH KOREAN STATE MEDIA CLAIM TRUMP, KIM INVITED EACH OTHER TO THEIR HOME COUNTRIES
Trump praised the outcome of the pair's meeting, saying "The World has taken a big step back from potential Nuclear catastrophe!" and adding that there would be "no more rocket launches, nuclear testing or research!"
He also spoke of his critics who he claimed flip-flopped on how they argued the U.S.'s relationship with North Korea should be handled.
"A year ago the pundits & talking heads, people that couldn't do the job before, were begging for conciliation and peace – 'please meet, don't go to war,'" he tweeted. "Now that we meet and have a great relationship with Kim Jong Un, the same haters shout out, 'you shouldn't meet, do not meet!'"
Fox News' Kaitlyn Schallhorn, Judson Berger, Samuel Chamberlain and The Associated Press contributed to this report.