Trump-Kim summit news hits North Korea for first time
North Koreans learned of the historic summit between President Trump and dictator Kim Jong Un for the first time Monday with the news from state media that their leader arrived in Singapore.
The news was on the front page of the ruling party's newspaper and the top – and only – item on the first news broadcast of the day on Korean Central Television.
Photos showed North Koreans crowded around poster stands and subway stations around Pyongyang and gathered at noon in front of the city's main train station to watch images of Kim getting off of his special flight that took him to Singapore.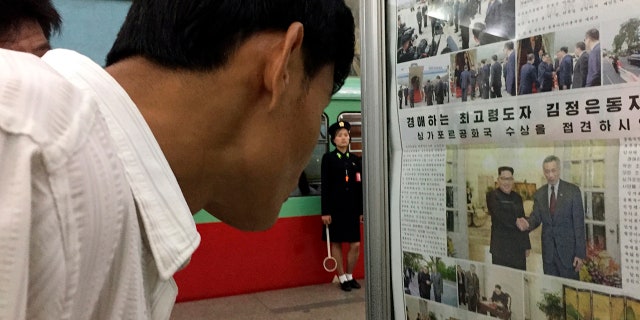 The summit would have "wide-ranging and profound talks" and was said to be held "under the great attention and expectation of the whole world," according to the Korea Central News Agency.
"When I woke up this morning I saw the news in the newspaper that our respected Marshal went to Singapore for the North Korea-U.S. summit," Han Il Gwang, a Pyongyang resident, told the Associated Press. "I know that Singapore is a very hot country so I wish that our respected Marshal stays healthy and comes back in good health."
Kim has already won a huge propaganda bonus by just sitting down with Trump and having state media spin the two leaders as equals. The reports made no secret of China's role behind the scenes as well, as Kim flew in an Air China jet to meet with Trump, who has expressed concerns about China's influence.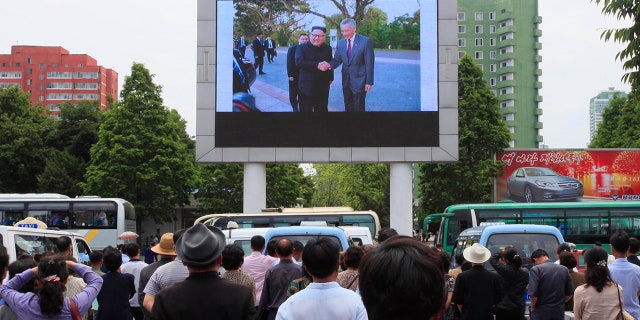 Monday's coverage of the Trump-Kim summit stressed that the talks with the president would be focused on building a relationship that is more in tune with changing times.
Trump and Kim are planning to meet one-on-one in Singapore on Tuesday.
The Associated Press contributed to this report.