Tropical Storm Karl passes near Bermuda, could strengthen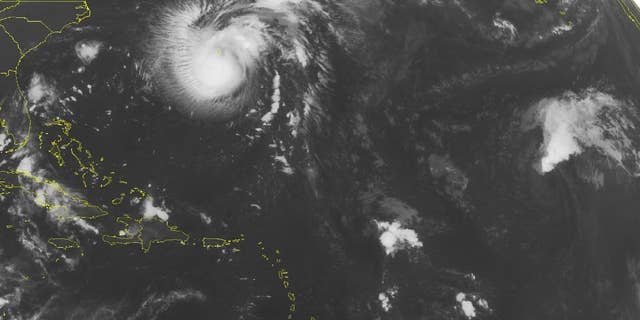 NEWYou can now listen to Fox News articles!
HAMILTON, Bermuda – Tropical Storm Karl was passing just southeast of Bermuda early Saturday, lashing the Atlantic Ocean island with powerful winds and squalls as authorities urged residents to stock up on emergency supplies.
Karl was expected to become a hurricane later Saturday after passing by the island. The Bermuda Weather Service said Karl's center would pass within 60 miles (97 kilometers) of Bermuda bringing tropical storm-force winds with hurricane-force gusts, squalls, dangerous surf and possibly tornadoes.
Conditions had started to deteriorate on Friday, with heavy surf pounding the shore. The approaching storm prompted businesses and schools to close early while the government of the British territory urged people to stay off the roads during the night and into the early morning. Bermuda is also accustomed to storms and some hotels planned to host hurricane parties.
"Any system passing this close to us should not be taken lightly and the old saying 'better safe than sorry' should be our guide," Minister of National Security Jeffrey Baron said. "Preparations should be made and all watches and warnings followed."
The Norwegian Breakaway cruise ship was in port in Hamilton on Friday but left hours earlier than planned to avoid the storm.
The Department of Airport Operations said that both scheduled American Airlines flights into Bermuda Friday evening and outbound Saturday morning had been cancelled. American Airlines' flights on Saturday afternoon will operate normally.
Karl's maximum sustained winds late Friday night had increased to 65 mph (100 kph). The U.S. National Hurricane Center said additional strengthening was expected and a hurricane watch was in effect for Bermuda.
As of 11 p.m. EDT Friday, Karl was centered about 105 miles (170 kilometers) south of Bermuda and moving north-northeast at 13 mph (20 kph).