Transportation Security Administration Officer Slain In L.A. Airport Honored In Memorial Service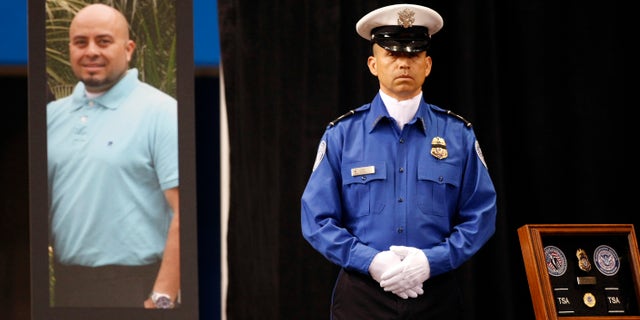 LOS ANGELES – Officer Gerardo Hernandez was honored Tuesday by his colleagues at the Transportation Security Administration in an emotional service that included prayers, song and memories of the cheerful family man.
Hernandez, killed on Nov. 1 by a rampaging gunman at the Los Angeles International Airport, became the first TSA officer killed in the line of duty.
The service held at the Los Angeles Memorial Sports Arena began with a solemn eulogy offered by the Rev. Paul Griesgraber, who quoted Psalm 23. It was followed by a soulful rendition of "Amazing Grace" performed by a chorus of blue-uniformed TSA officials.
As the group sang, some in the audience of law enforcement officers, firefighters and others wiped tears from their eyes. Among those in attendance were Los Angeles Police Chief Charlie Beck, Los Angeles County Sheriff Lee Baca, Mayor Eric Garcetti.
The mayor said Hernandez's upbeat manner "spread the love through every corner of this Earth" as he greeted travelers from around the world.
"Gerardo's story is like so many others in this city," Garcetti said. "Coming here from another country, another state, another place to call this home."
Hernandez had worked at LAX since 2010 and was checking IDs and boarding passes at Terminal 3 when 23-year-old Paul Ciancia walked up, pulled a semi-automatic rifle from a duffel bag and shot him at point-blank range, then shot him again as he lay wounded, authorities have said.
Authorities said Ciancia had a handwritten letter stating he made the conscious decision to try to kill multiple TSA officers and "instill fear in your traitorous minds."
Born in El Salvador, Hernandez moved to the United States when he was 15. Four years later he met his wife, and they married on Valentine's Day in 1998. He was killed a week before his 40th birthday.
Two other TSA officers and a teacher waiting at a security checkpoint were wounded within minutes before airport police shot the gunman four times in the mouth and leg. Ciancia remains hospitalized and has been charged with crimes that could get him the death penalty.
While authorities say he targeted TSA officers, a motive is unclear.
Federal agents are investigating possible ties between Ciancia and a widely circulated conspiracy theory that the U.S. government is preparing to establish a totalitarian state.
Based on reporting by The Associated Press.
Follow us on twitter.com/foxnewslatino
Like us at facebook.com/foxnewslatino