Third suspect arrested in Fast and Furious killing of US Border Patrol agent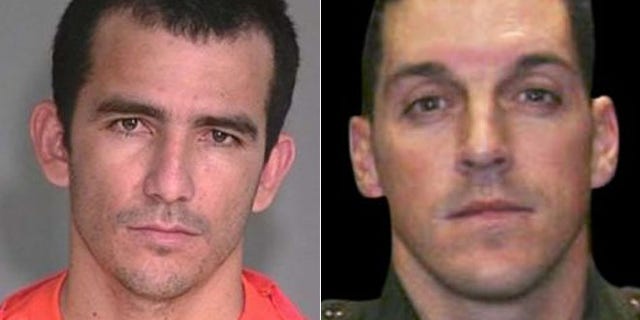 The third of five suspects wanted by the FBI has been arrested in Mexico, in connection with the killing of U.S. Border Patrol agent Brian Terry, whose murder shined a light on the botched U.S. gun-smuggling probe known as Operation Fast and Furious.
Fox News confirmed that Ivan Soto-Barraza was captured Thursday in Mexico, but there are few details on his arrest.
Soto-Barraza, 35, was wanted by the FBI on charges of first and second degree murder, assault on a federal officer, robbery and firearms violations in the killing of Terry in December, 2010, during a shootout in Arizona, near the Mexican border.
"The family is excited but we have two more fugitive defendants in Mexico. This is an ongoing operation and case," Terry family spokesman Robert Heyer said Thursday.
In Operation Fast and Furious and at least three earlier probes during the administration of President George W. Bush, agents in Arizona employed a risky tactic called gun-walking -- allowing low-level "straw" buyers in gun-trafficking networks to leave with loads of weapons purchased at gun shops. The goal was to track the guns to major weapons traffickers and drug cartels in order to bring cases against kingpins who had long eluded prosecution under the prevailing strategy of arresting low-level purchasers of guns who were suspected of buying them for others.
Two guns found at the scene of the shooting were bought by a member of a gun-smuggling ring that was being monitored in the Fast and Furious investigation. Critics have knocked U.S. federal authorities for allowing informants to walk away from Phoenix-area gun shops with weapons, rather than immediately arresting suspects.
But during Operation Fast and Furious, many of the weapons weren't tracked and wound up at crime scenes in Mexico and the U.S., including the Terry shooting.
The five suspects, plus another who faces lesser charges in the case, went to the U.S. from Mexico in order to rob marijuana smugglers, an indictment said.
The FBI continues to hunt down the remaining two suspects in Terry's murder, Jesus Favela-Astorga and Heraclio "Laco" Osorio-Arellanes.
The Associated Press contributed to this report.