The Latest: UN rights chief says Aleppo a 'slaughterhouse'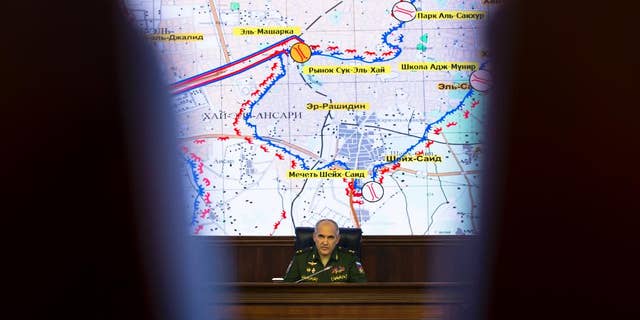 BEIRUT – The Latest on developments in Syria where a Russia-announced pause in the fighting is underway to allow civilians, rebels to leave besieged areas of Aleppo (all times local):
11:45 a.m.
The U.N. human rights chief says the Syrian city of Aleppo is "a slaughterhouse" and is urging the Human Rights Council to set aside "political disagreements" to focus on suffering civilians.
Zeid Ra'ad al-Hussein delivered the stark remarks in an address by videoconference to the 47-member U.N.-backed rights body on Friday as it opened a special session on Aleppo called by Britain and others over the crisis in the city.
Zeid, a Jordanian prince, says rights violations and abuses in Syria, in rebel-held eastern Aleppo and beyond "constitute crimes of historic proportions."
He said the "collective failure of the international community to protect civilians and halt this bloodshed should haunt every one of us."
The council was expected to vote later in the day on a resolution that would call for increased monitoring of crimes in Aleppo.
___
11:30 a.m.
The Syrian government has opened a corridor for rebels and civilians who want to leave the besieged eastern neighborhoods of the city of Aleppo.
Residents in the besieged area have said many won't go since there are no guarantees that evacuees won't be arrested by government forces.
The pan-Arab Al-Mayadeen TV aired live footage on Friday from the Castello Road in Aleppo. It shows bulldozers have opened the road and buses and ambulances are parked on the roadside to take evacuees.
The pause in Aleppo fighting was announced by Russia to allow for the evacuation of civilians and fighters, as well as the wounded. Rebels have rejected the offer, saying it isn't serious.
Before the pause, Aleppo's besieged districts were subjected to relentless Syrian and Russian airstrikes for weeks.