The Latest: Hospital fire kills at least 31 in South Korea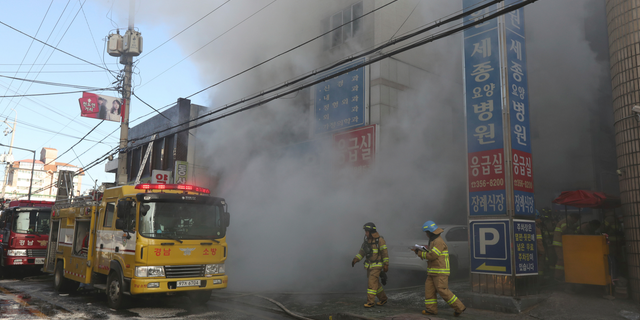 NEWYou can now listen to Fox News articles!
SEOUL, South Korea – The Latest on a hospital fire in South Korea (all times local):
11:15 a.m.
A fire official says the toll from a hospital fire in South Korea has risen to 31 dead with 77 injured.
Fire official Choi Man-wu said in a televised briefing eight of the injured are in critical condition.
The fire started from the first floor at Sejong Hospital in the southern city of Miryang. The cause is under investigation
Choi said a total of 194 people were in two buildings. Sejong Hospital has a nursing home for the elderly and also offers regular medical services.
___
11 a.m.
A fire agency official says 18 people have been killed and 63 injured in a hospital fire in southeastern South Korea.
An official at the National Fire Agency says the death toll is expected to rise from the fire at Sejong Hospital early Friday.
Yonhap news agency says the death toll has reached 33, but the official couldn't immediately confirm the report.
The official says the cause of the fire was under investigation. He spoke on condition of anonymity because he wasn't authorized to speak to media.
Yonhap says the hospital has 193 beds including 98 beds for the elderly who needs nursing care with 35 medical staff.