The Latest: French minister sees 'moment of truth' for Greece as stock markets fall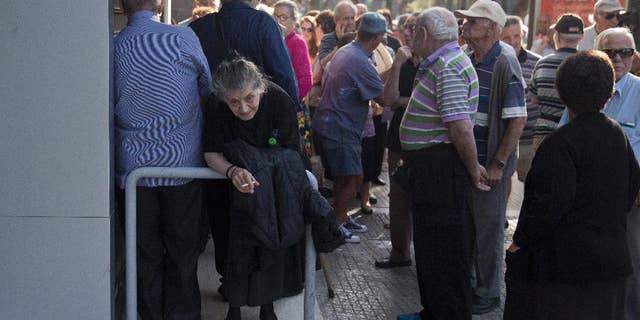 NEWYou can now listen to Fox News articles!
ATHENS, Greece – The latest news on Greece's financial woes as the deadline approaches on its bailout program (all times local):
___
11 a.m.
France's finance minister says this week marks a moment of truth for both Greece and Europe but that talks can resume anytime as a Tuesday deadline looms for a bailout program.
Michel Sapin told France-Inter radio that "Greece is trapped by reality, by hard reality" as the Paris Bourse dropped more than 4 percent at opening Monday.
Greece imposed capital controls and closed banks following Prime Minister Alexis Tsipras' abrupt decision to call a referendum on creditor proposals for Greek reforms in return for vital bailout funds.
Pierre Moscovici, the European commissioner for economic affairs, said negotiations were cut off when an agreement seemed within reach, and he said now the situation largely rests on a 'yes' vote in Greece. He said European Commision President Jean-Claude Juncker would speak at midday.